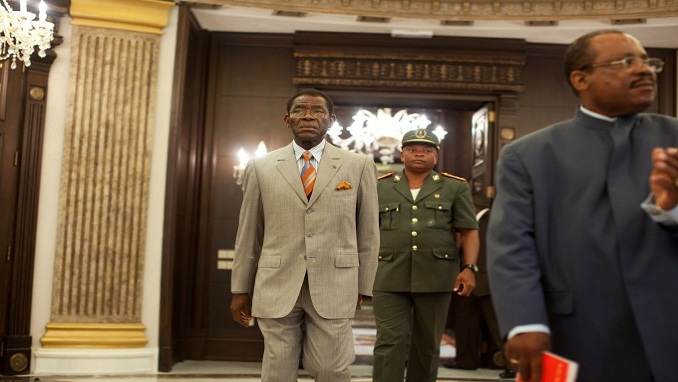 An alleged Russian "front man" for Equatorial Guinea's kleptocratic ruling Obiang family counts two notable Ukrainian businessmen among his associates, El Pais reported.
One of the businessmen is a former security official who was once imprisoned for smuggling missiles to Iran, while the other is an arms dealer with business interests throughout Ukraine's civilian airports, the report says.
The Russian, Vladimir Kokorev, now 63, was arrested in Panama in 2015 along with his wife and son on allegations that they had played a key role in facilitating the looting of the tiny West African country by the family of Teodoro ObiangNguemaMbasogo, the world's longest-serving president. They were then reportedly extradited to Spain, have recently been released on bail, and are awaiting trial.
The arrests followed an initial complaint alleging that Kokorev laundered US$ 26.5 million of oil money embezzled from Equatorial Guinea into Spanish real estate. Spanish investigators believe Kokorev has facilitated corrupt weapons sales.
The money likely represents a mere drop in the bucket for President Obiang, who rules a country ranked the 10th most corrupt in the world by Transparency International. In October, a French court convicted the president's son, TeodorinObiang, of embezzlement and seized over $100 million worth of his assets in France, according to media reports. (The younger Obiang is also Equatorial Guinea's vice president.)
In 2016, a report by the Organized Crime and Corruption Reporting Project (OCCRP) described the African dictator's business network in Eastern Europe. A new investigation has found ties between Kokorev and two colorful Ukrainians who have also both done business in Equatorial Guinea: Vladimir Yevdokimov and Roman Chelnokov.
Yevdokimov, a former member of Ukraine's security services, was sentenced to six and half years in prison in 2005 for selling 12 Kh-55 cruise missiles — a type designed to carry nuclear warheads as far as 3,000 kilometers — to Iran and China in the early 2000s. The sale to China raised fears at the time that the missiles could have been intended for transfer to North Korea; the sale to Iran was viewed as threatening to Israel.
Chelnokov, Equatorial Guinea's honorary consul to Ukraine, is a businessman involved in the arms trade who also has a range of civil aviation businesses, including aerial surveying and ground handling services at the country's airports. In 2014 and 2015, he was effectively in charge of handling senior government officials and foreign dignitaries at Kyiv's main airport.
The two Ukrainians are tied to Kokorev via two companies in Panama, an offshore jurisdiction that allows for a high level of corporate secrecy. The country was also the base of Kalunga Co. SA, a company at the center of the earlier allegations against the Kokorevs.
Both of the Panama companies that tied Kokorev to the Ukrainians have been used to sell military and other equipment to Equatorial Guinea, documents obtained by OCCRP show.