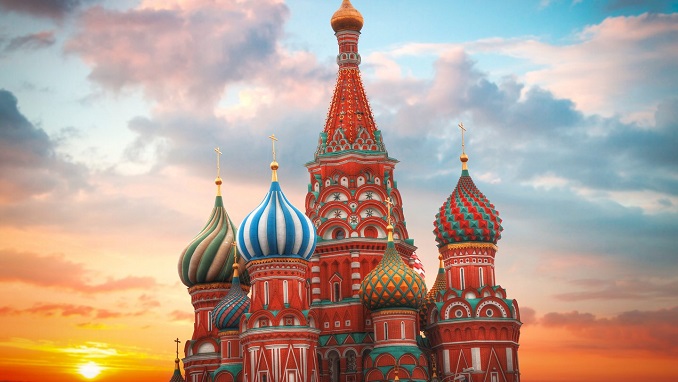 Hundreds of Moscow residents protested this week over the government's plans for a new highway through Russia's capital, DW reported.
Locals fear the construction site, which could cut straight through a nuclear waste site, will send radioactive dust into the air and into the Moskva River.
The planned highway was announced last November and construction is currently slated to begin at the end of the year. In a city plagued by traffic jams, authorities say the highway will unclog some of Moscow's busiest roads. 
On Monday, several hundred protesters gathered in the south of Moscow outside residential housing blocks that overlook a nuclear waste site, carrying signs like reading "We want to live!" and "Road to Death," many bearing the bright yellow symbol warning of radiation.
The site is located between the Moskva River and the popular Kolomenskoe park. It stretches for around 500 meters along sloping river banks and contains tens of thousands of tons of radioactive waste from Moscow's nearby Polymetals Factory. The plant used to extract thorium and uranium from ore and now produces weapons and military equipment.
Demonstrators of all ages have gathered here to protest against an eight-lane road that they believe will cut through the contaminated soil. Activists are making speeches and collecting signatures against the project. "We want to live" is how one young man explains his attendance at the rally.
One of the speakers at the rally is Andrei Ozharovsky, a nuclear physicist and a radioactive waste safety specialist. Just a short walk away from the demonstration, he leads DW through a forest on the radioactive heap, which he says has presumably been here since the 1940s or 1950s, when there was much more of a slapdash attitude towards nuclear safety. At the time, this spot wasn't yet part of the city of Moscow — but bit by bit, the capital expanded. Ozharovsky notes that it is only one of many contaminated sites in the city.
"No one knows how many there are," he says, explaining that Russia's atomic energy agency, Rosatom, is still highly secretive.
Ozharovsky rushes around the site with a radiation detector, periodically ducking under tape marking off areas with the words "Beware — Radiation!" to take measurements. One taken in a hole in the ground shows 7 microsieverts per hour, over double the permissible norm officials cite as 2.7 microsieverts per hour. Ozharovsky says that in April specialists from the Ministry of Emergency Situations and the government agency Radon measured a rate 25 times higher than the norm.