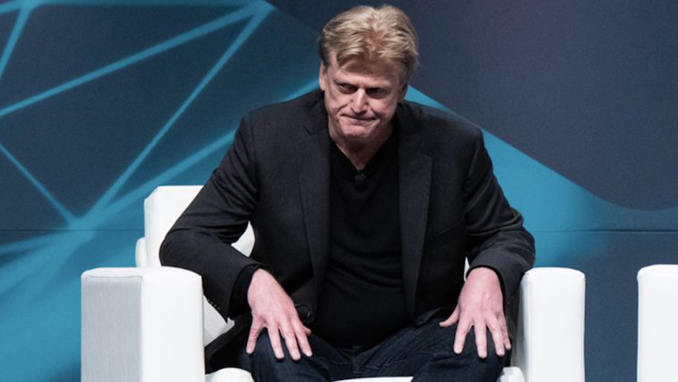 The head of U.S. online home goods retailer Overstock resigned Thursday, days after he issued a press release entitled "Comments on Deep State" that claimed he helped the FBI carry out "political espionage," the Washington Post reports.
Overstock's stock price declined sharply last week after the strange post from longtime Overstock CEO Patrick Byrne. The company's stock price later recovered, and it surged more than 10% Thursday on news of Byrne's exit.
In a letter Byrne issued Thursday, he stated that he is "already far too controversial to serve as CEO" and chose to step away after 20 years so that his presence wouldn't affect Overstock's business.
Byrne had said in an August 12 press release that he helped the FBI's 'Clinton Investigation and the 'Russian Investigation' — "operating under the belief that I was helping legitimate law enforcement efforts." He also claimed he "put the pieces" together in mid-2018 and realized the investigations amounted to "political espionage" against the 2016 US presidential candidates. Byrne said he decided to speak to journalists about his involvement this summer after discussing it with his rabbi.
"Coming forward publicly about my involvement in other matters was hardly my first choice," Byrne wrote in the letter about his resignation. "I now plan on leaving things to the esteemed Department of Justice (which I have doubtless already angered enough by going public) and disappearing for some time."
Byrne also recently admitted in a series of interviews that he had an intimate relationship with Russian agent Maria Butina, which lasted from 2015 to 2018, and ultimately assisted law enforcement in their investigation of her.
The phrase "Deep State" is used to suggest there is an architecture of government that operates outside the democratic system. President Donald Trump and his supporters have also used the phrase to reference conspiracy theories that claim insidious actors are attempting to undermine his presidency.