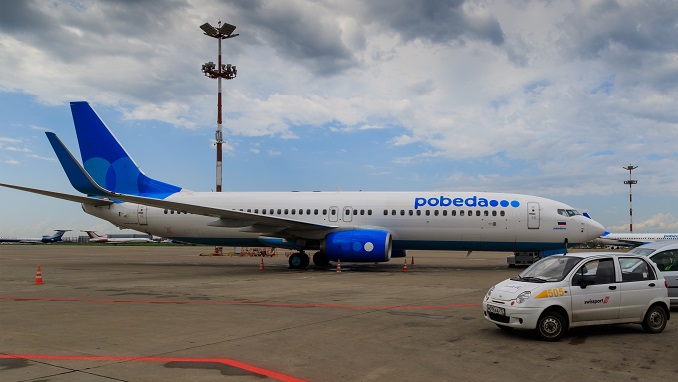 Russia's only low-cost carrier, Aeroflot subsidiary Pobeda Airlines, is to enlarge its fleet by 50 per cent for this year's IATA summer schedule, as the airline targets the 10-million passenger mark in 2018, Rusaviainsider.com reports.
According to the company, the fast-growing airline will have 30 aircraft in its monotype fleet of Boeing 737-800s, all of which are or will be delivered factory-fresh from the manufacturer. In the autumn it will also start taking delivery of the newest re-engined Boeing 737MAX-8s. It has a total of 20 of the type on order, with deliveries stretching through 2022.
The airline needs the expanded fleet for its expected further network growth to 120 destinations, a 30 per cent increase on last year. Of these, at least 47 routes will connect directly with Russian regional cities. This year the plan is to add at least 10 new destinations.
In 2018 Pobeda carried some 7.18 million passengers, a 56.8 per cent improvement on the previous year. The high growth rate is projected to remain at an average 30 per cent, a performance which would ensure the surpassing of a total of some 10 million passengers, securing Pobeda a place in Russia's top-five airlines, the company said.
On Friday, deputy transport minister Alexander Yurchik said the government expects that Russian carriers will surpass their 2018 record of 116.2 million passengers this year.
"I can't give a very precise forecast, but we will undoubtedly grow," he states. "All these years we have been growing at double-digit rates. Recognising that certain internal resources have been exhausted, we are now working on [securing] further growth. It's hard to predict the [likely] growth rate, but it will [probably] slow down a bit. Last year we grew by almost 11 per cent. I hope we'll stay at about 10 this year," he told Interfax.
According to a recent report by aviation authority Rosaviatsiya, Russian airlines' international traffic grew slightly faster than domestic in 2018 – by 11.5 per cent to 47.3 million passengers – versus 10 per cent domestically.