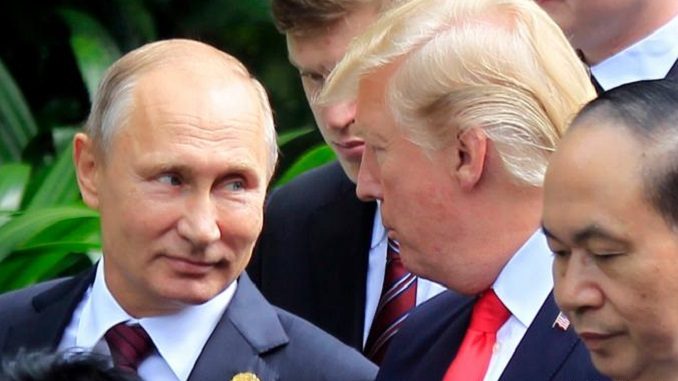 Russian President Vladimir Putin and U.S. President Donald Trump discussed oil and the spread of the coronavirus in a phone call on Monday, and ordered their energy ministries to hold further talks on global oil markets, Bloomberg reported.
The Kremlin did not say what exactly the ministers would discuss, but Moscow has previously signaled it would like to see more countries joining efforts to balance global oil markets following the collapse of its deal with OPEC earlier this month.
"Opinions on the current state of global oil markets were exchanged. It was agreed there would be Russo-American consultations about this through the ministers of energy," the Kremlin said in a readout of the call.
Earlier on Monday, Trump told Fox News he expects his Russian counterpart Putin to request the lifting of U.S. sanctions during the phone call.
"Yeah, he'll probably ask for that," Trump told the TV network. He did not say what his response would be, noting that he had put sanctions on Russia but adding: "They don't like that. Frankly, we should be able to get along." The two were due to talk…
In response to Trump's statements, Russian Presidential Spokesman Dmitry Peskov denied Putin asked the U.S. President to remove sanctions on Russia. 
During the recent emergency summit of the G20 group, which was focused on the coronavirus pandemic, Putin called for creating green corridors free of trade wars and sanctions in order to ensure the mutual supply of medicine, food, equipment, and technologies. He also proposed that the International Monetary Fund (IMF) create a mechanism to provide long-term interest-free loans to countries.