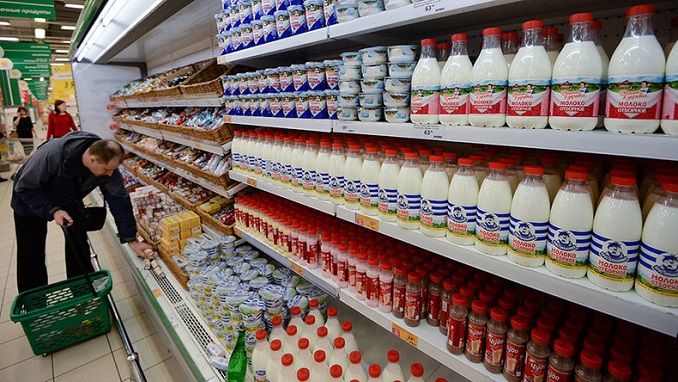 Russian President Vladimir Putin has extended a ban on Western food imports for another 18 months after the European Union's decision to prolong its broader, punitive sanctions over Russia's actions in Ukraine.
Putin's Thursday decree keeps the food ban in place until Dec. 31, 2019. It follows the EU's move to extend its restrictions until year's end, Vedomosti reports.
The U.S. and the EU introduced several rounds of sanctions to punish Russia for the annexation of Ukraine's Crimea and support for separatist rebels in eastern Ukraine. They made lifting restrictions contingent on the progress of a 2015 peace deal for eastern Ukraine. Russia argues that the peace agreement has floundered at Ukraine's fault.
In August 2014, Russia restricted imports of chicken, beef, pork, dairy products, fish, nuts, fruits, and vegetables from the US, EU, Australia, Canada, and Norway. Since 2015, Iceland, Liechtenstein, Albania, and Montenegro have added to this list, and since 2016 – Ukraine. The list of products banned from import to Russia was also adjusted with Putin's move on Thursday.
The sanctions have hurt the Russian economy, restricting access to global financial markets and cutting imports of key technologies.
The measures forced the country's food industry to adapt and switch to using domestic materials and machines. Promoting the use of domestic machinery with official policies, Moscow carries the expectation that the domestic food processing industry sector will grow threefold by 2030.