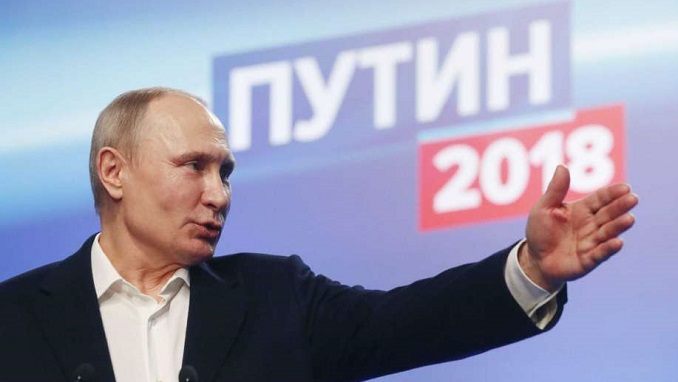 Russian President Vladimir Putin has secured six more years in the Kremlin with an emphatic victory in Sunday's presidential poll. His victory was no surprise but it was still sweet for the Russian leader, who has been re-elected by a landslide, winning three-quarters of the votes cast.
Claims of ballot rigging didn't dampen celebrations as the 65-year-old took to the stage to address supporters in a victory speech near Red Square.
In the speech, Putin said he hoped that political forces in Russia would put national interests before clan interests when it came to the country's economic development, Reuters reported.
None of the seven candidates who ran against Putin posed a threat, and opposition leader Alexei Navalny was barred from running. Backed by state TV and the ruling party, Putin's victory was never in doubt. His nearest challenger, Communist Party candidate Pavel Grudinin, got around 13 percent, according to partial results, while nationalist Vladimir Zhirinovsky got around 6 percent.
Analysts have said that Russians' economic expectations will be high, following a long recession and stalling real income numbers. While the situation has stabilized since the 2015-2016 recession, growth forecasts are capped at 1-2 percent, below targets set by the Kremlin.
According to AFP, there are five main challenges for Putin's economic policy during his fourth term in office. One of them is the lack of manpower – Russia has lost more than five million people since 1991, a result of a serious demographic crisis.
"We will have fewer young people in the next 10 to 15 years, so a young specialist with new skills — interpersonal and technical, including computer programming — will be worth gold," former finance minister Alexei Kudrin said recently.
Another challenge is the retirement age in Russia — 55 for women and 60 for men – which is among the lowest in the world. While state pensions are very low, with the demographic decline the system still represents a growing burden for the federal budget.
The third economic problem Putin is facing is attracting foreign investors. The Russian government has been regularly flirting with foreign investors at economic conferences, promising to improve a business climate undermined by bureaucracy and also, according to its own findings, by sometimes unjustified lawsuits.
"Russia needs to attract more foreign investment, it needs to create a favorable competitive environment (weak ruble, lower taxes for industry and investment incentives) and reduce bureaucracy," according to Chris Weafer, founder of consulting firm Macro Advisory.
"The need for foreign investment is also the reason why the Kremlin has not retaliated against the recent US sanctions escalation; it does not wish to make it any more difficult for foreign investors to come to Russia," Weafer says.
The Russian economy will also need diversification since the economic model that saw high energy prices fuel meteoric growth during Putin's first two terms in power from 2000 to 2008 has run its course. Rich in vast reserves of hydrocarbons, Russia is at the mercy of fluctuations in their prices, as shown by the 2015-2016 crisis.
The "economy remains structurally dependent on the commodities sector, which is clearly negative for the growth outlook," according to Alfa Bank.
The final big challenge for Putin's economic outlook is the lack of productivity.
"The economy is very inefficient. Partly this is the legacy of the Soviet system and partly because of the easy growth coming from the oil wealth in the years 2000-13," said Weafer.