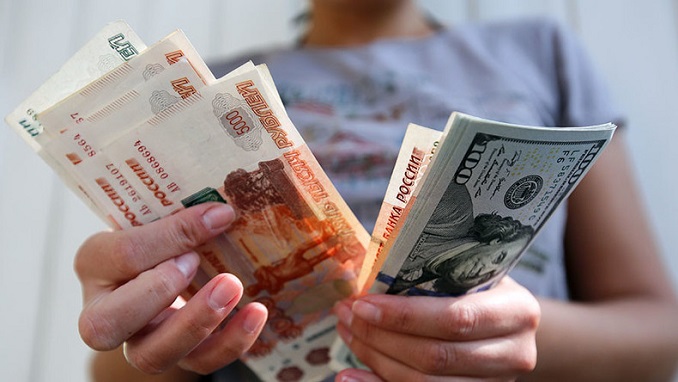 The Russian rouble hit a 7-1/2 month high on Monday, helped by a weaker U.S. dollar, local month-end tax payments and higher oil prices.
At 0751 GMT, the rouble was 0.54 percent stronger against the dollar at 56.33, a level that hadn't been seen since early June of 2017, and gained 0.31 percent to trade at 68.76 versus the euro, Reuters reported.
The dollar weakened to three-year lows against a basket of currencies as investors priced in the risk of tighter policies elsewhere in the developed world.
Also, Brent crude oil, a global benchmark for Russia's main export, hit $70 a barrel in early trade, supported by ongoing output cuts led by OPEC and Russia, but was slightly down 0.14 percent at $69.77 a barrel later the morning.
"Overall, we think that external factors remain supportive for the rouble: among other things, in the coming weeks, we expect more export-selling flows due to the tax payments," analysts at VTB Capital said in a note.
The local monthly tax payments begin on Monday and go through the end of the month.
To meet these tax duties, Russian export-focused companies usually convert their dollar revenues into roubles. According to a Reuters poll, these payments could reach 1.42-1.98 billion roubles ($25.2-35.2 million) in January.
The rouble was pressed by increased state purchases of foreign currencies that the Russian finance ministry begins on Monday.
Also, the market was keeping the fears over the possible tightening of U.S. sanctions against Russia in early February, that was pressing the Russian currency, analysts at Rosbank said in a note.
Russian stock indexes were up.
The dollar-denominated RTS index was up 0.79 percent to 1.1270 points. The rouble-based MOEX Russian index, previously known as MICEX, was 0.38 percent higher at 2,271 points.