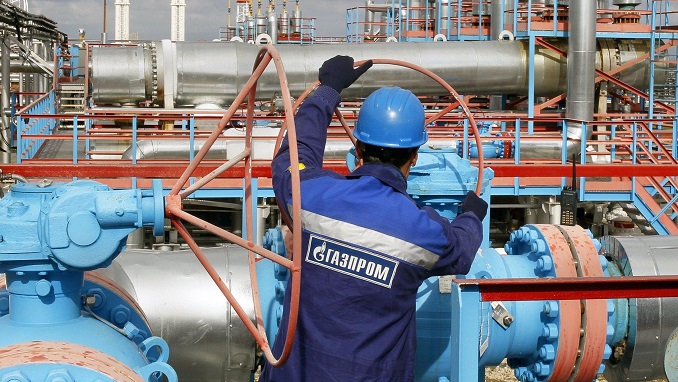 Russian gas giant Gazprom said this month it had completed record deliveries to Europe and Turkey in 2017 at a total of 193.9 billion cubic meters — 8 percent higher than its previous record, set in 2016.
This result meant not only a financial victory for the government-owned company, but also a political one at a time when diplomatic relations between Russia and the EU are at their worst since the Cold War, AFP reports.
Gazprom's chairman Alexei Miller said the numbers "show the increasing demand from European countries for Russian gas, but also the reliability of these deliveries in the required amount." Deliveries to Germany and Austria reached a historic high and exports to France rose by 6.7 percent from 2016, according to Gazprom's figures.
Following a series of gas crises between Moscow and Kiev that affected deliveries to Europe, Brussels set goals to diversify its energy sources. But the percentage of Russian gas in Europe has only increased in recent years and now represents a third of the total gas consumption in the EU.
But despite the challenges, Gazprom reported record exports to Europe for the second year in a row, with consumers turning to Russian gas to offset falling domestic production in the Netherlands and elsewhere.
"The second consecutive year of record exports on the one hand demonstrates the rapidly growing demand for Russian gas in European countries, and on the other hand, its reliability to supply the required volumes," said Gazprom chairman Alexei Miller.
The EU's diversification goal was reinforced by tensions between Brussels and Moscow following the start of the Ukrainian crisis in 2014 that led to fears of Moscow using its gas leverage for geopolitical means.
According to Valery Nesterov, an oil and gas analyst at Russian bank Sberbank CIB, EU demand for gas is rising because of "economic recovery" in Europe and thanks to gas prices being "more competitive" than those of coal.
Other factors pushing up demand include cold winters, the decline of European (mainly Dutch) gas output and the closure of nuclear power plants, such as in Germany.
If Nesterov envisages a possible reduction of Russian exports to EU this year after record results in 2017, he nonetheless says the general tendency will not change: "Gazprom will likely keep its market share in the EU."
Brussels blocked South Stream, a Russian project to ease exports to southern European nations, and has been resisting other projects such as TurkStream, a pipeline planned via Turkey, and North Stream 2, via the Baltic Sea, which Gazprom justifies as necessary for the increased European demand in the future.