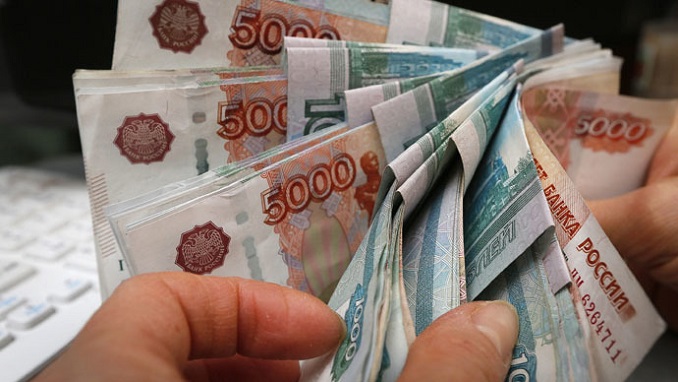 While the Russian government is confident that spending budget tax revenue on foreign exchange purchases won't affect the nation's currency rate much, independent analysts believe that this, together with declining oil prices, may weaken the rate to 75 rubles per dollar, Nezavisimaya Gazeta reports.
As growing concerns that the demand for raw materials will drop due to a global economic slowdown are voiced in global markets, oil production has been increasing in the United States. Investors, in turn, doubt that the December OPEC+ deal will prove to be effective, which only adds fuel to the fire.
Apart from external factors, internal ones may turn out to be no less important for the ruble. Russia's Central Bank plans to buy foreign currency to the tune of 15.6 billion rubles every day until February 6, which means that it will purchase about $4 billion in total.
"If oil prices remain at the current level of about $60 per barrel and the Central Bank continues regular foreign currency purchases, then the U.S. dollar to ruble exchange rate may rise above 75," Raiffeisen Bank analysts say.
The dollar's exchange rate will easily break through the 70-ruble mark once the Russian Finance Ministry enters the market to buy foreign exchange for real, according to Alor Broker analyst Alexei Antonov.
"It will have to buy at a fast pace because purchases were suspended last year. I expect 2.8 billion rubles ($42.1 million) to enter the foreign exchange market every day for the next couple of months and under these circumstances, the ruble's exchange rate is bound to fall," he noted.
FxPro analyst Alexander Kuptsikevish said, "Foreign currency purchases in accordance with the Finance Ministry's budget rule are putting pressure on the ruble, but it is more reasonable to talk about the ruble's growth being limited rather than about direct pressure on it."
Nevertheless, the expert does not rule out that the dollar's rate will reach the 75-ruble mark, though no sooner than 2020. He views the negative effect of sanctions as the major reason for that.