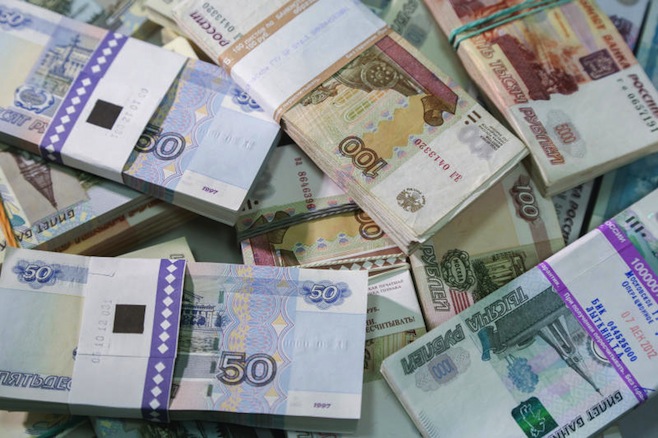 The Russian ruble was stable on Wednesday ahead of the country's Finance Ministry bond auctions and a U.S. Federal Reserve board meeting, while stocks hovered near record highs days after Washington lifted some sanctions, Reuters reported.
At 0713 GMT, the rouble was 0.1 percent weaker against the dollar at 66.10 and also eased 0.1 percent to trade at 75.54 versus the euro.
Monthly tax payments earlier this month have supported the rouble, but in the past few days, the Russian currency has been following its global peers that are now closely watching the U.S. rate decision.
"The FOMC meeting is set to be the highlight of today's agenda," VTB Capital said in a note.
Weekly auctions of Russia's OFZ treasury bonds are also in focus as demand for these papers is a gauge of investors' sentiment towards Russia and concerns related to the possibility of fresh U.S. sanctions on holdings of Russian state debt.
The benchmark MOEX index was 0.02 percent higher at 2,498.7 points, trading near its all-time high of 2,502.73 it briefly hit on Monday.
"The 2,500 mark serves as strong resistance for the MOEX index but the external positive mood this week might be not enough for it to break through it," Otkritie Broker said in a note.
U.S. President Donald Trump's administration on Sunday lifted sanctions on aluminum giant Rusal and other companies linked to oligarch Oleg Deripaska, defying a Democratic-led push in the U.S. Congress to maintain the restrictions.
After outperforming the market on Monday, shares in Rusal then dropped and were down 4.6 percent on the day on Wednesday.