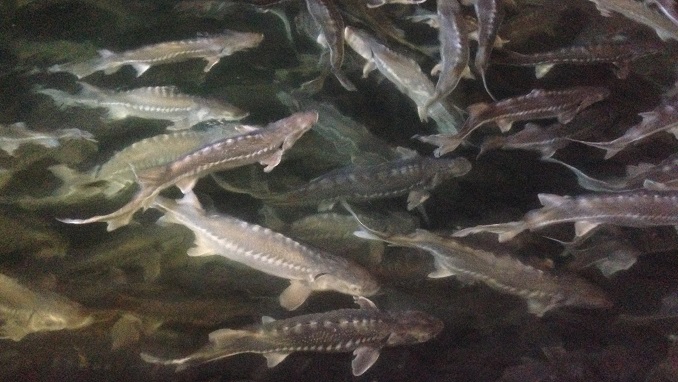 An increasing number of investment projects attracted by Russia's sturgeon farming market, as well as growing state support are creating a boom in the industry, according to The Fish Site.
Sturgeon has in recent years become one of the most attractive segments of Russian aquaculture, largely due to its high growth rates and the increasing domestic demand both for the fish itself and for its caviar. The development of sturgeon farming in Russia was rooted in the early 1990s – a time when industrial fisheries in the Caspian Sea and River Volga were banned, the report says.
According to the Russian Federal Agency of Fisheries (Rosrybolovstvo), there are currently about 70 companies involved in sturgeon farming, with an annual production of about 2,500-3,000 tons – a volume that has doubled since the beginning of 2000s, despite the long payback periods, high cost of finished product and strict state regulations sturgeon farmers face.
One of the most ambitious companies is ARK Beluga, which was established more than 20 years ago and in recent years has become one of the country's leading sturgeon producers. The company is based in the Trusovsky area of the Astrakhan region, close to where the Volga joins the Caspian Sea.
Olesya Sergeeva, deputy director of the fishery for ARK Beluga, explains that the company has about 250 tanks, most of which are currently installed in the water distributor gateway on the Volga river, near the city of Narimanov.
According to her, the company houses 10,000 sturgeon, with a combined weight of more than 350 tons, and they intend to increase production volumes by up to 50 percent by 2021, depending on future demand for sturgeon products in Russia.
Analysts from Russia's Rosrybolovstvo predict sturgeon farming in Russia will continue to grow in the coming years, amid the ongoing recovery of the Russian economy from the 2008 financial crisis and its consequences. According to Vasily Sokolov, deputy head of the Rosrybolovstvo, 4,000 tons of sturgeon and 30 tons of caviar should be produced annually by 2021.