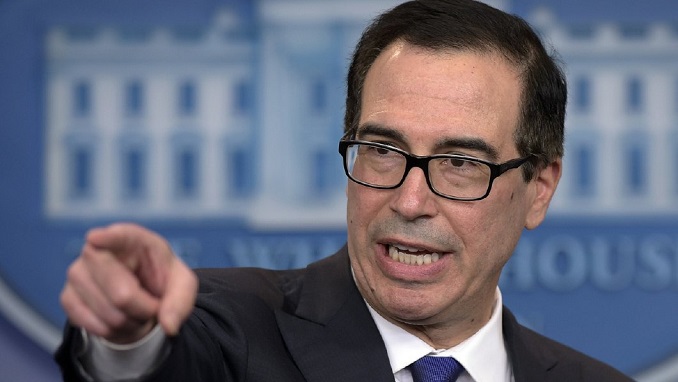 The ruble swung between gains and losses as investors braced for the announcement of new U.S. sanctions aimed at punishing the Kremlin for its backing of Syrian leader Bashar al-Assad, Reuters reported.
Volatility on the Russian market has soared since Washington imposed fresh sanctions against Moscow on April 6, targeting major Russian companies and some of the country's most prominent businessmen. While some investors are pointing to rising oil prices as a reason to buy assets of the world's biggest energy producer, others warn that Russia's deteriorating relations with the West create too much uncertainty about how far U.S. penalties will go.
Dangers of a direct military confrontation between Russia and the United States eased over the weekend after Western missiles fired at Syria over a suspected poison gas attack steered clear of any Russian troops on the ground.
"The Russian financial market will remain extremely nervous and volatile – with a short-term focus on the scale and rhetoric of the new U.S. sanctions," analysts at Societe Generale SA's Russian unit including Yury Tulinov said in a research note.
UN Ambassador Nikki Haley, speaking Sunday on CBS's "Face the Nation," said U.S. Treasury Secretary Steven Mnuchin will announce new sanctions against Russia Monday that "go directly to any sort of companies that were dealing with equipment" related to Syrian leader Bashar al-Assad and his chemical weapons.
The Russian currency climbed as much as 0.7 percent to 61.637 versus the dollar on Monday after earlier falling as much as 0.9 percent. The yield on local-currency bonds maturing in 10 years was steady at 7.51 percent. Bullish bets on the ruble dropped the most since August last week, according to CFTC data.
Konstantin Vyshkovsky, the head of the finance ministry's debt department, said in an interview that Russia plans to resume its weekly bond auctions this week after panic selling caused it to cancel last week's offering for the first time since 2015.
Some of the market panic dissipated late last week when U.S. Treasury Secretary Steven Mnuchin said he remains opposed to the so-called nuclear option of sanctioning Russian sovereign debt.
"The mood is more optimistic today than last week," said Denis Korshilov, head of fixed-income, currency and commodities at Citigroup Inc. in Moscow. "The market participants think the new U.S. sanctions will be targeting particular companies as opposed to the entire bond market."