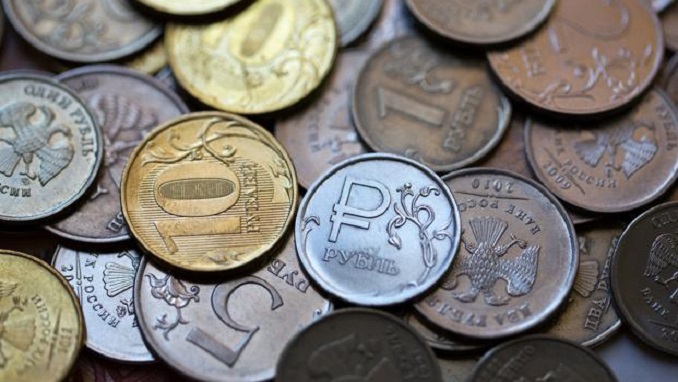 The Russian ruble lost some value on Wednesday, weighed down by a stronger dollar and weaker oil prices, Reuters reported.
After upbeat views from Federal Reserve Chairman Jerome Powell on the economy, the dollar was near a three-week high against a basket of currencies, as the forecast encouraged bets on further Fed interest rate hikes this year.
"The negative reaction on the stock markets, the rise of the dollar and the decline in U.S. Treasuries looked logical, resulting in the weakening of the most currencies, including the ruble," analysts at ING said in a note.
The ruble was 0.29 percent weaker against the dollar at 56.44 and was flat against the euro at 68.89 at 0833 GMT.
On Tuesday, the ruble climbed to its strongest level since mid-2015 on Tuesday, extending gains after a boost to Russian assets from S&P Global's upgrade of Russia's sovereign rating. The market keeps on pricing in S&P's decision to lift Russia's foreign currency sovereign ratings to investment grade, which earlier this week pushed stock indexes and government bond prices to all-time highs.
Oil prices fell as weak Chinese and Japanese industrial data triggered concerns of an economic slowdown that could lower demand. Brent crude oil, a global benchmark for Russia's main export, was down 0.45 percent at $66.33 a barrel.
Support to the ruble came from month-end tax payments in Russia, which began on February 15 and will run to the end of the month. To meet these duties, Russian export-focused companies usually convert their dollar revenues.
Markets awaited two large auctions by the Russian Finance Ministry of OFZ treasury bonds worth 50 billion rubles ($887 million) on Wednesday. OFZ bonds are in focus after S&P Global raised Russia's sovereign rating to an investment grade, boosting demand for Russian assets. Russian stock indexes were down.
The dollar-denominated RTS index was down 1.0 percent to 1,296.80 points. The ruble-based MOEX Russian index was 0.81 percent lower at 2,322.85 points.