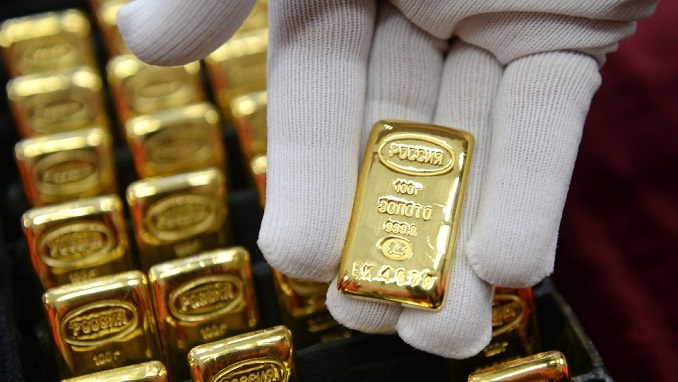 Russia continues to pile up its gold reserves and added another 800,000 ounces or 25 metric tons of the precious metal in June, Investing.com reports.
Given the escalating geopolitical tensions between Russia and the U.S., many analysts believe this buying will continue in the coming months, as Russia attempts to insulate the economy by distancing itself from dollar-based trade.
According to estimates, Russia's total gold reserves now amount to 63.3 million ounces or around 1,969 metric tonnes, with a current value of just $76 billion (based on gold at $1,200/0z).
Foreign exchange diversification intensified in April this year and their gold accumulation is averaging over 20 tons per month. It is interesting to note that Russia dumped some $90 billion of U.S. Treasuries in April and May.
Russia's total foreign exchange reserves are at $458 billion and their gold allocation has risen to 17% of their total reserves – even at the current depressed gold prices.
This ranks Russia in fifth place globally in terms of gold reserves behind the U.S., Germany, Italy, France, and China.
Russia is also ranked fifth now in terms of gold held as a percentage of total FX reserves. However, the share of gold in Russian foreign exchange reserves is much lower than in many other countries such as the U.S., Italy, and France.
In 2017, Russia was the third largest gold miner in the world at 266.2 tonnes, just six tonnes short of Australia in second place and China in first place, according to data from the World Gold Council.
Thus, the Russian central bank is generally consuming all of the Russian gold production and sometimes having to import gold. Therefore, they currently account for all domestic demand for gold.