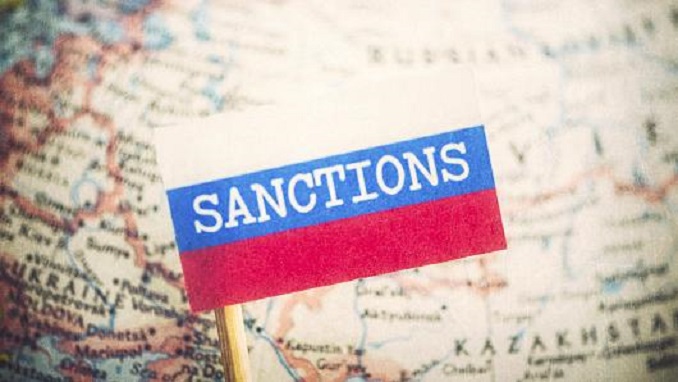 Russia is again fuming and threatening harsh retaliation over U.S. sanctions that, in the short term, are turning out to be far more potent and damaging to the Russian economy than the ones imposed in 2014, Reuters reported.
The measures, announced on April 6, hit seven of Russia's wealthiest businessmen, along with 17 government officials. The move sent shock waves through the economy, with the ruble down 10 percent compared to the U.S. dollar as of April 10, and the main Russian stock index falling 13 percent. Forbes magazine estimated that the 50 richest Russians lost $16 billion since April 9.
In the past, Moscow has shown no hesitation in punching back hard and fast. Russia has kicked out U.S. diplomats in response to similar U.S. measures, including the closure or seizure of U.S. properties.
In March, Russia kicked out the British Council, a government-backed cultural organization, after London expelled dozens of diplomats following the nerve-agent poisoning of a Russian former double agent in England. When the United States showed its solidarity with Great Britain by expelling 60 Russian diplomats and closing Russia's consulate in Seattle, Russia kicked out an equal number of U.S. diplomats and ordered the closure of the U.S. Consulate in St. Petersburg.
Russia has also in the past targeted nongovernmental organizations, asserting that those receiving funding from foreign governments or private charitable groups are meddling in internal affairs. But those measures weren't taken in specific retaliation to U.S. or other countries' actions.
"Russia today does not have the economic levels for influencing other countries that the U.S. has," Aleksei Makarkin, an analyst with the Center for Political Technologies, a Moscow think tank, said in an interview with the Rosbalt news agency. "American nongovernmental organizations…have already been kicked out, the diplomatic corps has been cut. What else is there?"
What Moscow's response will entail is an ongoing guessing game in Washington, London, and other Western capitals. Experts point out, however, that Russia has few, if any, economic levers it can pull to retaliate. "There's not much they can do," says Anders Aslund, a longtime critic of Russia and economist working at the Atlantic Council in Washington, D.C.
"They are very much anxious to maintain foreign direct investment. They don't want to lose out on the markets, so previously they have talked about doing something and ended up doing nothing," he says.
Some of the largest U.S. blue-chip companies have invested billions directly in Russia since the Soviet collapse, building factories, supply-and-distribution networks, brand loyalty, and attracting investments from portfolio managers.
Coca-Cola, Ford Motor, PepsiCo, Caterpillar, ExxonMobil, Chevron, and Microsoft, among others, all have a major physical presence in Russia. Aircraft maker Boeing has a major joint venture to produce titanium with the VSMPO-AVISMA company, owned by the state holding company Rostec.
Some Russian lawmakers have discussed targeting Boeing in response to past U.S. sanctions, Aslund says. Others have mentioned restricting commercial airlines from overflying Russia.
But going after such companies would likely hurt Russia domestically more than it would harm, or affect, U.S. policymaking.