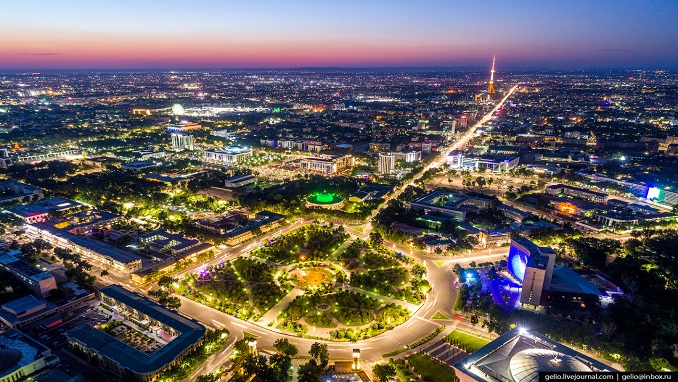 The recent announcement that Uzbekistan could be joining the Russia-led Eurasian Economic Union (EAEU) is the latest moves that show Moscow is on the economic offensive throughout the former Soviet space, Modern Diplomacy writes.
"Uzbekistan is arguably the most important country in Central Asia as it is the only state bordering all four "stans" (Kazakhstan, Tajikistan, Kyrgyzstan, and Turkmenistan) of the region. From a purely geographic perspective, influence over Uzbekistan would increase Russian clout throughout entire Central Asia," the publication's analysis says. "Uzbekistan's importance is also maximized by the fact that it possesses a pretty competitive industrial sector capable of producing various machinery and other vital products."
The Chairman of Russia's Federation Council (upper house of parliament), Valentina Matviyenko, said last week that Uzbekistan had already decided to join the Russia-led Eurasian Economic Union (EEU) and that final preparations are taking place in that regard.
But Tashkent was more cautious in its reaction to the statements from Moscow. The first Deputy Chairman of the country's Senate Sodiq Safoev said on Friday that when deciding whether to join the Eurasian Economic Union (EAEU) or not, Uzbekistan will have its national interests at heart.
"The main leitmotif of studying the issue of joining any organization, including the EAEU, is Uzbekistan's national interests. For us, the priority of national interests is an inviolable right," Safayev said.
Uzbekistan's membership of the EEU will also be a win for Moscow because of the latter's quiet competition with the Chinese over the region, specifically in the economic and slightly military realms. As China rolls out its flagship Belt and Road Initiative, Uzbekistan is of primary importance to Beijing, Modern Diplomacy writes.
On the other crucial front of Russia's borderlands, Moscow is seemingly close to reaching a higher level of integration with Belarus (a country already an EEU member) by 2022. Though Minsk has officially refuted Russian plans on economic integration, it is clear that pressure from Moscow is indeed mounting and it is becoming increasingly difficult for Belarus to withstand various Russian moves.
"Both events, which, at least according to the open-source material, are likely to take place in the near future, will strengthen Russia's position in Eurasia. It will also increase the EEU's position and make the bloc economically more attractive for non-member former Soviet states such as Azerbaijan and potentially for Middle East powers (Iran and Turkey)," the analysis says.