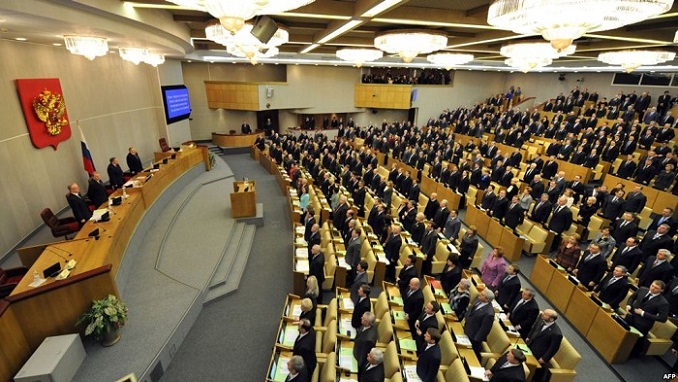 The Russian government plans to allocate a total of three trillion rubles ($47.2 billion) to pension hikes for non-employed retired people in Russia, Labor Minister Maxim Topilin said on Thursday, according to Izvestya.
"All the sources I have highlighted, all of them are allocated for upward adjustment of pensions. Three trillion rubles ($47.2 billion) over six years," the minister said.
The government's bill on changes into the Russia pension system has passed its first reading in the State Duma (lower house) this Thursday.
The draft bill on changes to the national pension system submitted by the government to the State Duma stipulates a gradual increase in the retirement age to 65 for men (by 2028) and 63 for women (by 2034). Currently, the retirement age for men and women is 60 and 55 years, respectively.
The contentious issue of pension reform has been raised several times in the last two decades, but the government has repeatedly chosen to delay. It presented the bill in less than auspicious economic times. Most Russians have faced real-terms wage falls since 2014, and the outlook is grim.
The authorities plan to raise the retirement age gradually starting from 2019. The hike in the retirement age does not affect current pensioners (about 46.5 million people.) They will continue to receive their pensions and social benefits that were earmarked for them earlier.
Critics have also railed against the way the pensions plan was communicated, announced with no discussion a few hours before kick-off during the opening match of the World Cup, between hosts Russia and Saudi Arabia. Finance minister Anton Siluanov has insisted that this was a coincidence, but the public outcry was real.
The reform, along with a planned VAT hike, has dented President Vladimir Putin's trust ratings, which fell to the lowest recorded ebb since 2011 – below 38 percent, according to state pollsters.
According to Prime Minister Dmitry Medvedev's forecast, thanks to the implementation of the retirement reform, pensions will grow by about 1,000 rubles ($16) annually on average.