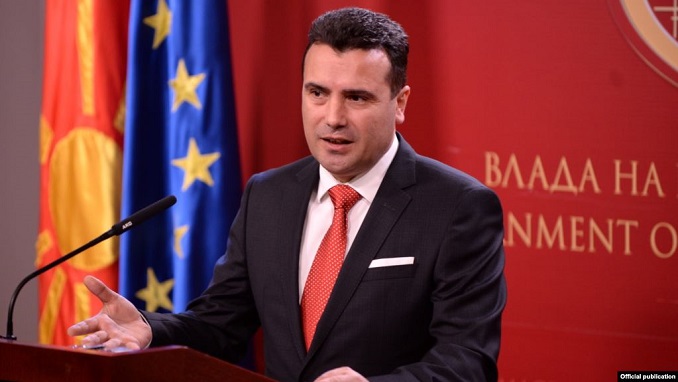 Attempts by the government of North Macedonia to widen economic cooperation with Russia are not a response to the EU's recent refusal to give his country a starting date for membership negotiations, Prime Minister Zoran Zaev said on Thursday, according to Balkan Insight.
Zaev told a Russia-North Macedonia economic forum in Skopje on Thursday that the development with Brussels and the reactivation of an inter-governmental commission on trade with Russia do not mean that his country is seeking an alternative to Euro-Atlantic integration.
"There is no alternative to the EU and NATO," Zaev said when asked by reporters about whether this was Skopje's reaction after last month's failure by the European Council to grant a start date for his country's EU accession talks. He added that at the same time the country has to improve economic ties with countries like Russia and China, as well as Asian and Middle Eastern countries where there is much-untapped potential.
Zaev also stated that North Macedonia, like neighboring Serbia, is not going to join the EU's economic sanctions against Russia, which Brussels instigated over the Ukrainian crisis.
On Thursday he addressed the forum and received a Russian delegation led by Russia's Deputy Minister of Industry and Trade, Aleksei Gruzdev. The forum, the first after a five-year pause, continues on Friday in North Macedonia's lakeside town of Ohrid with a meeting of the joint inter-governmental commission.
Since the last such event, political relations between the two countries have suffered setbacks due to suspicions of alleged Russian involvement in North Macedonia's political crisis.
The country's government has estimated that trade with Russia has somewhat stagnated and in the first half of this year only represented 1.1 percent of the country's overall foreign trade exchange.
Speaking at the forum, Zaev said that tourism and agriculture, in particular, offer new possibilities for increased cooperation. He invited Russian companies to consider opening collection points in his country so that North Macedonian agricultural produce can more easily find its way to Russian markets and also called on them to invest in the ongoing process of installing gas pipelines.
The Russian ambassador to North Macedonia, Sergey Bazdnikin, said meanwhile that the forum was also very important for bilateral relations "between our friendly countries and brotherly nations".