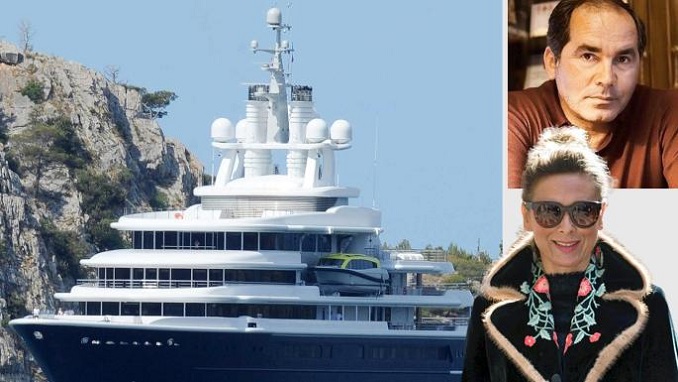 A Russian oligarch at the center of 'Britain's biggest divorce battle' with his ex-wife has been ordered to hand over his $492 million superyacht to her, Bloomberg reported.
A court heard Farkhad Akhmedov, 61, is currently engaged in a cat and mouse struggle with his former wife, Tatiana, 41, in a bid to keep her hands off his immense fortune.
Judge Charles Haddon-Cave said that Akhmedov tried to hide his ownership of the Luna behind a group of companies and moved the ship to Dubai in the belief that it was "well beyond the reach of an English court judgment". The nine deck-yacht, which has 50 crew and two helipads, was originally built for Roman Abramovich before Akhmedov purchased it in 2014.
Bankers and other financial professionals are often at the center at some of the biggest British divorces. London courts have gained a reputation as being a more sympathetic place to play out high-stakes cases, as judges generally order a 50-50 split of assets, giving equal weight to the work of a wealth creator and a homemaker.
In the final days of the court proceedings, the billionaire changed his ownership of the Luna to another of his companies. The transactions form part of the billionaire's "continuing campaign to defeat Akhmedova by concealing his assets in a web of offshore companies," Haddon-Cave wrote, declaring that the prior deals be set aside. The Luna, which also has a 20m outdoor swimming pool, eight smaller boats, and a mini-submarine, has a value of £346 million, according to the judgment.
The court heard Akhmedov, 61, has shown a 'naked determination' to stop his ex-wife getting hold of his money ever since their divorce in December 2016. She was awarded $492 million in cash, plus property – including a modern art collection – bringing the total to more than $636 million.
She was handed the $126-million art hoard, the couple's palatial former home and even his £350,000 Aston Martin. But her divorce payout came to only 41.5 percent of the 'staggering' family wealth.
Akhmedov's transfers of cash and the art collection to Panamanian and Liechtenstein companies have already been undone by the courts.