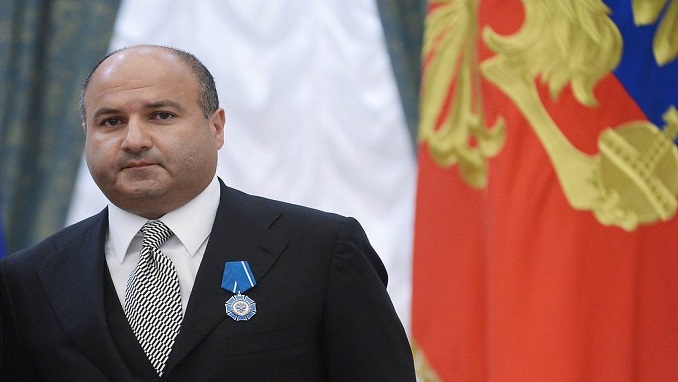 A Russian investigation firm has offered a bounty in London for information about the assets of billionaire fugitive Georgy Bedzhamov, Sky News reports.
Asset recovery firm A1, acting on behalf of Russian financial authorities, is offering cash rewards for information on the whereabouts and wealth of Bedzhamov, the former head of the Russian bobsleigh federation, who is wanted in Moscow for his alleged role in the dramatic collapse of Vneshprombank, one of Moscow's largest lenders.
The firm has paid for advertisements featuring Bedzhamov's face offering a "reward for information" in London media outlets and on billboards outside department store Harrods. It has also hired a mobile billboard to drive around Knightsbridge, where it says the billionaire is currently thought to live.
Bedzhamov left Russia in 2016 when regulators found giant hole in the accounts of Vneshkombank, in which he was a major investor. The banker and his sister, Larisa Markus, are alleged to have defrauded Russian retail bank Vneshprombank out of 210 billion rubles ($3.25 billion).
Markus was sentenced to 8.5 years in prison in 2017 after admitting using shell companies to siphon 114 billion ($1.82 billion) out of the bank, and is awaiting trial on new charges filed in January.
Bedzhamov previously successfully resisted extradition from Monaco after a personal intervention by Prince Albert, the ruler of the principality, and is now believed to be residing in London.
Victims of the fraud reportedly included family members of senior Kremlin officials, several state corporations, and the Russian Orthodox Church.
In April the High Court in London granted claimants the right to pursue Bedzhanov's wealth and issued a worldwide freezing order on an estimated $1.74 billion of his assets, including properties in London, Tel Aviv and the south of France.
The court also ordered him not to leave England and Wales and banned him from spending more than £10,000 ($13,000) a month on top of the rent he pays for a Mayfair office.
A1, which is part of oligarch Mikhail Fridman's Alfa Group, was hired by Russia's deposit insurance agency to help recover the wealth in the aftermath of the collapse.