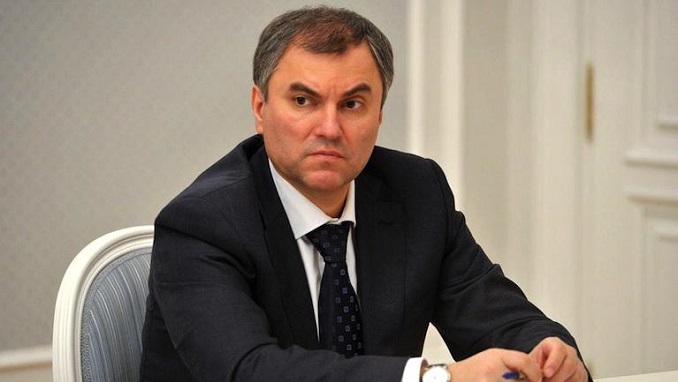 The charman of the Russian Duma (lower house of Parliament) Vyacheslav Volodin, proposed the introduction of a ban on the implementation of U.S. sanctions in Russia. He announced this initiative during a meeting with representatives of business and expert circles discussing Moscow's retaliation for latest Washington sanctions, Rambler reported.
"It would be right to introduce measures of responsibility in relation to those who will be guided by anti-Russian decisions of foreign states in their activities on the territory of Russia," Volodin stated, stressing that for violating this initiative, in his opinion, it is necessary to introduce a certain system of punishments. In connection with this the speaker of the State Duma also did not rule out "the introduction of measures of criminal responsibility," the message of the lower house of parliament's press service reads.
The bill on retaliatory measures for U.S. sanctions against Russian businessmen, heads of state companies and enterprises was submitted to the State Duma on April 13.
The initiative implies a ban or restrictions on the import of medicines, agricultural products, raw materials, food, as well as alcohol and tobacco products from the United States or countries that supported the anti-Russian restrictions. In addition, the deputies proposed limiting the activities of American auditors in Russia, as well as legal and consulting companies. Moreover, according to the initiative, Russian employers should be banned from hiring U.S. citizens.
Furthermore, the bill implies the suspension of Russia's cooperation with the United States in the nuclear, aircraft and rocket-propulsion industries and establishes a "ban on admission or restriction of admission [to Russia] of technological equipment and software" from the States.
Russian MPs then explained the need for such measures with "the protection of the rights and freedoms of Russians, as well as the interests" of the state after the introduction of new sanctions by the United States. The first reading of this document is scheduled for May 15 at the State Duma.
The U.S. Treasury extended sanctions against Russia on April 6. The updated blacklist included such Russian businessmen and heads of state-owned companies as Oleg Deripaska, Viktor Vekselberg, Suleyman Kerimov, Andrey Kostin and Alexey Miller. Among the legal entities were En+ Group and UC Rusal of Deripaska. Investors' sale of securities of these companies on the first trading day after the introduction of sanctions, on April 9, dragged down the entire Russian stock market. The indices then plummeted by 8-11%. In total, in a day Russia's richest people, as Bloomberg later reported, have lost $16 billion.