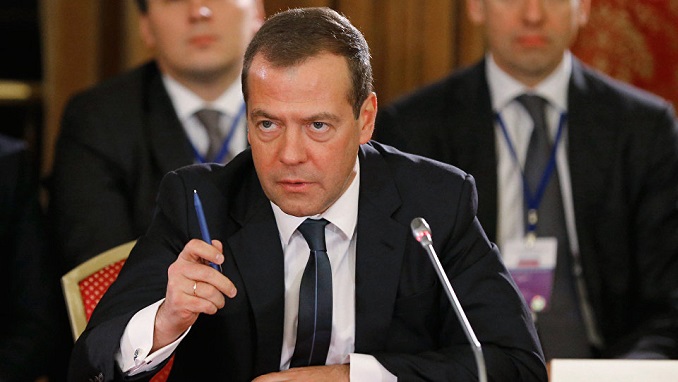 Russia's State Duma approved Prime Minister Dmitry Medvedev for another term at the post on May 8, a day after President Vladimir Putin nominated him to continue at the position, The Washington Post reported.
A total of 374 lawmakers backed Medvedev's candidacy while 56 voted against. The State Duma is dominated by the Putin-backed United Russia party, of which Medvedev is the chairman.
Putin, who was sworn into a new six-year term as president on May 7, submitted the nomination to the lower house of parliament just hours after his formal inauguration.
Under Russia's constitution, the government is obliged to resign when a new presidential term begins. The prime minister is the No. 2 official in the Russian hierarchy, holding responsibility for the economy and answering to the president.
The 52-year-old Medvedev was steered into the presidency in 2008 by Putin, who had reached his constitutional limit of two consecutive terms.
Putin then switched places with Medvedev in 2012, returning to the presidency while his loyal ally became prime minister. Medvedev was Putin's chief of staff from 2003 to 2005 and first deputy prime minister from 2005 to 2008.
On Monday, Putin took the oath of office for his six terms in office, using his inaugural speech to outline a plan for economic development of the country. Putin has spelled out a raft of domestic goals for his new term, including slashing Russia's poverty rate, modernizing infrastructure, boosting health care and life expectancy, and a technological drive to transform the economy and improve living standards.
Amid possibly the worst relations between Moscow and Washington in the past 50 years, U.S. President Donald Trump congratulated Putin on being sworn in for a fourth term, saying he looks forward to a time when the two nations can have a good relationship.