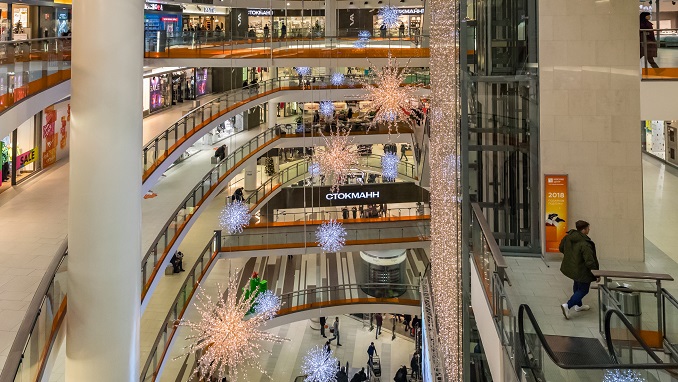 The weekly shopping index was negative in Moscow and St. Petersburg though it grew in Yekaterinburg and Kazan over the most recent holiday, International Women's Day, Kommersant writes, concluding that the holiday failed to stimulate Russians to head to local shopping malls.
Muscovites and St. Petersburg residents now tend to spend their free time at restaurants and food courts and go shopping online, said analysts cited by the business newspaper.
According to Roman Skorokhodov, director general of Watcom Group, the drop in the shopping index in Moscow and St. Petersburg is due to fierce competition.
"Customers who used to view shopping malls as places of leisure, are now choosing new food markets and restaurants," he noted. However, in his words, the number of competing facilities is much less in Russia's regions.
According to the fiscal operator OFD Platform, the number of restaurant transactions rose by 12% on March 8 year on year. At the same time, there was a decline in the number of purchases for jewelry (12%), sports equipment (13%) and fragrances (9%).
Alexei Vanchugov from Vanchugor and Partners believes shopping mall traffic has been to a large extent impacted by rising online trade.
"This market has been showing double-digit growth, which means customers are not buying less, they are just making purchases in a different way," he noted. According to the Association of Online Trading Companies, Russia's online trade grew to 1.25 trillion rubles ($19.1 billion) in 2018.
Meanwhile, not all shopping malls are facing declining customer traffic. Sources at Moscow's Aviapark mall told Kommersant that on March 1-7, its traffic increased by 28% year on year, while the March 8 figure rose by 8%.
The mall's managers think this was made possible thanks to the holiday promotion campaigns and the facility's improved transport accessibility following the unveiling of new subway stations.
Managers at Moscow's Riviera shopping mall, in turn, said that its customer traffic had increased by 8% year on year from  March 4 through 10.