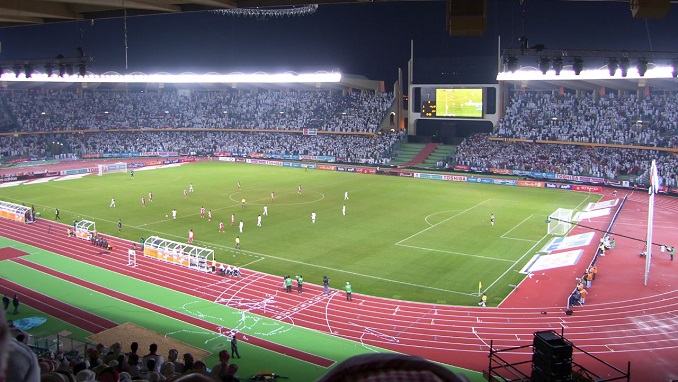 Less than a month before the start of the 2018 soccer World Cup in Russia, the country has finished all the stadiums needed for the matches played beginning May 29.
The final venue to open its doors and receive permission to host matches is in the city of Samara, in the southeastern part of the country with a population of over a million, TASS news agency reported.
The new Samara Arena is a 45,000-seat structure that has struggled with delays and cost overruns. Its preliminary budget was set at $225 million. Although the final cost has not been made public, some experts set the final budget of the Samara venue at $320 million.
The delays in its construction stem from the disputes over costs between government officials and stadium contractors. At the center of their differences was the arena's complex roof design — meant to evoke space to reflect Samara's achievements in the space industry.
The transparent dome of the venue was supposed to include an intricate set of beams that would light up the city skyline at night. However, that translucent dome was finally replaced with a metal one and other corners were cut.
The regional authorities also contributed to the construction delays by adding shopping stores that made the arena 40 percent larger than originally expected.
Now Samara Arena is 156,000 square meters in size, making it the largest of the 12 World Cup stadiums in Russia.
During this summer's FIFA World Cup, Samara will host a total of six matches: four group stage games, a match in the Last 16 stage and one of the quarterfinals.
Samara is a major transport hub thanks to its international airport, major railway station, and busy river port. During the World War II, Samara, formerly known as Kuibyshev, was intended to become the second capital of the Soviet Union as all government departments and diplomatic corps were evacuated there from Moscow.
Russia will host its first FIFA World Cup from June 14 to July 15. Aside from Samara, the matches will take place in Moscow, St. Petersburg, Kaliningrad, Volgograd, Kazan, Nizhny Novgorod, Saransk, Rostov-on-Don, Yekaterinburg, and Sochi.