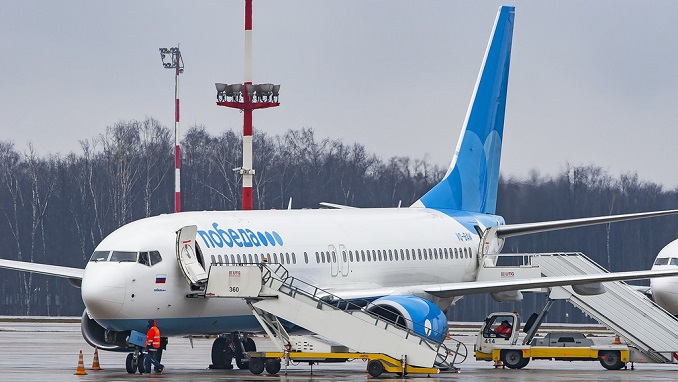 The Russian government's sub-commission on the defense industry, chaired by Deputy Prime Minister Yuri Borisov, has recommended that budget airline Pobeda considers purchasing 30 Russian-made MC-21 planes instead of Boeing 737s, which have been grounded due to security concerns, business newspaper Vedomosti reported.
According to the publication, the low-cost airline earlier requested the government commission on import substitution to approve a purchase order for 50 Boeing 737 MAX airliners. The commission eventually approved the purchase of 20 aircraft, scheduled to be delivered in 2019-2021. At the same time, according to the paper, in December 2018, Borisov instructed the Ministry of Industry and Trade and the United Aircraft Corporation to consider the possibility of replacing those planes with Russian-made ones.
"No one wants to disrupt Pobeda's purchase. There is a goal to combine state companies' investment programs with Russian producers' plans," the paper quoted Borisov's spokesperson as saying.
The low-cost airline currently is awaiting delivery on 24 Boeing 737 NG airliners and expects another six to be delivered before the summer begins. With the addition of the 20 approved Boeing 737 MAXs, Pobeda's fleet will reach 50 planes by the end of 2021. Pobeda's parent company Aeroflot plans in its renewed strategy that the low-cost carrier's passenger traffic will reach 25-30 million by 2023. In 2018, the airline carried 7.2 million passengers.
"Any budget airline builds its business model on ensuring a high air time of its fleet. This is why it is reasonable for low-cost carriers to purchase time-tested aircraft, which have been operated by other airlines so their 'teething' problems have been already addressed," said Aviaport agency Director Oleg Panteleyev.
The American aviation giant said Boeing will ground 737 Max 8 and 9 aircraft until at least May after the fatal Ethiopian Airlines crash on Sunday which killed 157 people, the U.S. Federal Aviation Administration (FAA) has said.