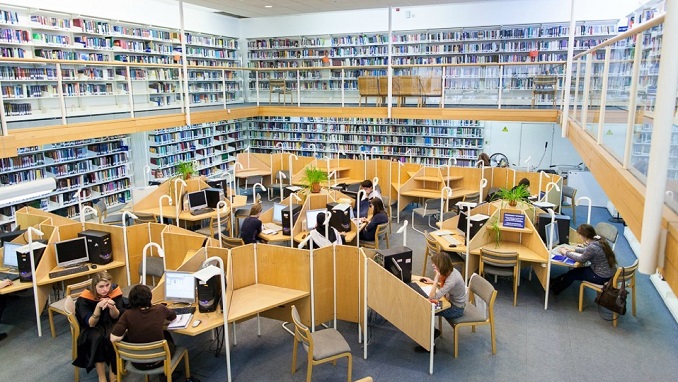 The Russian Association of Business Education (RABE) held its annual summer meeting at Kazan Federal University, gathering a host of experts to discuss the latest trends and challenges in the market, with internationalization being the main topic, Business Because reports.
According to a report [pdf] from Russia's Expert Analytical Center, the number of international students in Russia is expected to double—from around 200,000 to 400,000—by 2025.
Between 2011 and 2016, Russia attracted more international students than Canada, China, and Japan. In 2015, over 14% of international students in Russia enrolled in business and economics programs, the third-largest study segment after engineering, and medicine. Over 60% of those come from former Soviet countries in the Commonwealth of Independent States (CIS); 24% from Asia; over 5% from Africa; 3% from Western Europe.
The report highlights three key factors underpinning the international visibility of Russian business schools: accreditations, journal publications, and partnerships with schools from the West.
The Association to Advance Collegiate Schools of Business (AACSB) currently boasts nine member schools from Russia, but no Russian business school is AACSB-accredited. Tim Mescon, the association's chief officer for Europe, the Middle East, and Africa, says this is more down to the length of the accreditation process—a four-to-five-year review of business school curricula, teaching, and learning standards—rather than any shortcomings on schools' part.
Mescot lectured for two years at IBS-Moscow, of RANEPA university, alongside a roster of international faculty and staff. While the MBA degree is not officially recognized by the Russian ministry of education—"legally, it doesn't exist!" he says—many public and private institutions offer EMBA and part-time MBA programs, although most are taught in Russian.
For Mescot, the perception of Russia in the West is an issue that can't be ignored. Promoting a welcoming, positive image is important, he says.
"That's why events like the World Cup are so important for Russia to create a different global perspective. It's got to be part of a managed PR campaign [on the part of Russian business schools]—something that's not so different to what U.S. schools are doing now because of President Trump," he adds.