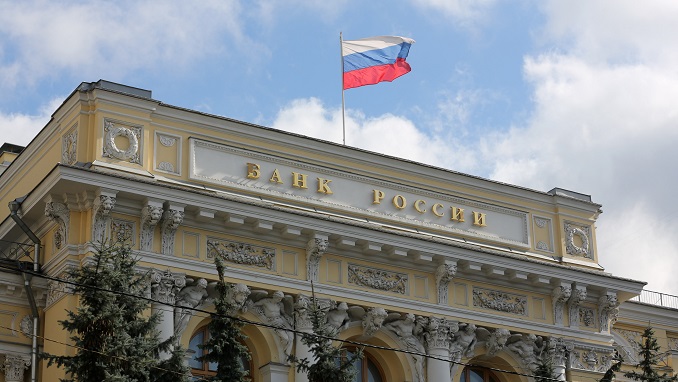 The Russian rouble lost value once again on Thursday, after briefly recovering when the central bank suspended daily dollar purchases, Reuters reported.
Just as the ruble slid to its weakest level since April 2016 earlier in the session, the central bank said it was halting the only recently resumed purchases for state reserves as of Thursday and until late September. The Bank of Russia was trying to ease pressure on the ruble, which was battered in recent days by the prospect of new U.S. sanctions, but the move proved not enough to curb the currency's downward trend.
The rouble lost 0.25 percent on the day to 68.2 versus the dollar as of 1622 GMT, after hitting its lowest in more than two years at 69.01 per dollar earlier in the day.
Against the euro, the rouble firmed 0.2 percent to 78.76 , having touched 79.77 in early trade, its weakest level since April this year.
According to Vladimir Miklashevsky, an economist at Danske Bank in Helsinki, the suspension of dollar-buying by the central bank could help the currency firm by 0.5-0.8 rubles per dollar.
"But if geopolitical pressure on Russia from the United States increases and new sanctions are imposed in the autumn, the suspension of the central bank purchases will not change the direction for the dollar/ruble pair," he said.
The Russian currency remains under heavy pressure from fears of new Western sanctions, fueled by recent statements from the United States in light of Special Counsel Robert Mueller's investigation into alleged Russian meddling in the U.S. elections.
Washington is also expected to announce new sanctions against Russia in autumn related to the poisoning of Russia's double agent Sergei Skripal and his daughter in Britain earlier this year. Moscow has repeatedly denied involvement.
Russian stock indexes also took a hit. The dollar-denominated RTS index finished the trading day 2.0 percent lower at 1,043.99 points, while the rouble-based MOEX Russian index shed 1.6 percent to 2,260.04 points.
Shares in Russia's largest bank Sberbank underperformed, falling 4.84 percent on the day, even though the lender reported a record high quarterly net profit.
A weaker rouble usually spurs inflation and curtails economic activity but boosts Russia's budget revenues, since commodities are sold abroad for dollars.
Russian authorities have already acknowledged the need to revise economic forecasts. The economy ministry now sees the rouble averaging 61.7 per dollar this year compared with its earlier forecast of 60.8 roubles.