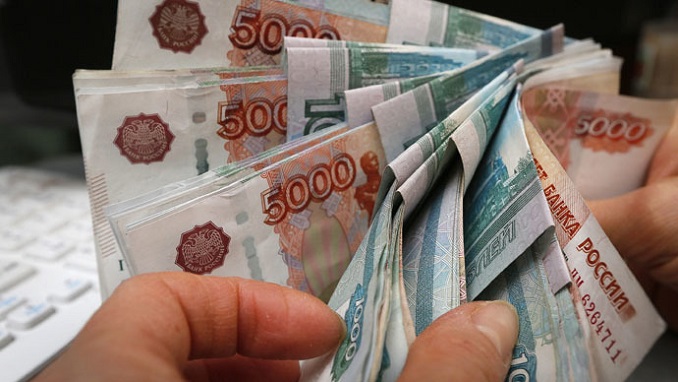 Russia's finance ministry continued to place record-high volumes of OFZ bonds on weekly auctions, selling RUB170bn ($2.4bn) worth of federal bonds in three issues to meet a total demand of over RUB230bn ($3.2bn) this week.
As reported by bne IntelliNews, on strong guidance from the Central Bank of Russia (CBR) for monetary easing, demand for OFZ bonds increased despite coronavirus (COVID-19) volatility.
Russia's domestic treasury bills have held up well in the crisis and after an initial sell-off, demand for the bonds has remained strong amongst foreign investors, who see Russia as something of a safe haven thanks to its rock-solid macro-fundamentals.
Foreign investors held a total of RUB3,185bn in March, or 34.1% of the total outstanding bonds, close to the all-time high of 34.5% set in April 2018, when they held a total of RUB2,351bn.
However, in April foreign investors sold circa RUB300bn worth of OFZ, taking their total down to RUB2,892bn from a total of RUB9,130bn outstanding bonds that remained unchanged month on month, or 31.7% of the total. Despite the sell-off, foreign investors still held more OFZ than they did at the start of the year, when they owned a total of RUB2,850bn.
Analysts say that the domestic OFZ market has stabilized now that the initial shock of the double whammy of an oil shock and a pandemic stop-shock to the economy has worn off.
"Looking at foreign participation in OFZ, local currency government bonds, after the initial globally driven $4.0bn sell-off in March, foreign investors seem to have bought $0.7bn in April (non-residents bought around 20% of new placements), reflecting continued confidence in Russia's macro stability indicators (public debt of 12-13% GDP, liquid FX fiscal reserves of around 10% GDP), relatively high real rates, dovish CBR guidance and lack of negative sanction newsflow," VTB Capital (VTBC) said in a note.