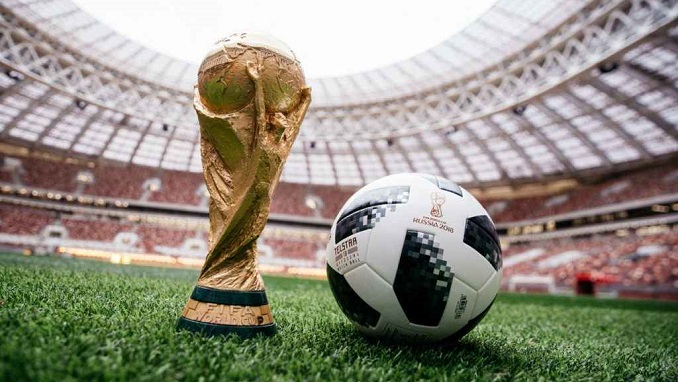 Freelance taxi drivers, dating apps and bars where fans gather to watch matches or celebrate their teams' victory are among the big winners from Russia's World Cup, The Associated Press reports.
Moscow's beer kegs are emptying fast and demand for Vladimir Putin T-shirts is overwhelming St. Petersburg street vendors as the World Cup sends business surging across the 11 Russian cities hosting soccer's biggest show.
"We are so far off the chart on this, we order as much beer in one night as we would order in a month," said Doug Steele, owner of Papa's Bar & Grill on Nikolskaya Street just off Red Square in Moscow. He dragged a keg on a dolly as he talked, too busy to stop.
The Russian president was counting on just such a boost after U.S. and European sanctions and low oil prices sank the country into recession, and after Russia's government spent 800 billion rubles ($12.7 billion) to ready for the World Cup. But experts warn the boon won't last long without deeper change to the oil-reliant, corruption-tainted Russian economy.
The lift provided by the World Cup has reached retailers far beyond the Russian capital, helping other host cities far off the tourist path.
The lowest-profile of the bunch, Saransk, spent hundreds of millions of dollars to build a stadium, high-rises and transport to accommodate tens of thousands of visitors who descended in recent weeks. Proud residents rented out their apartments and kept businesses open extra late to host fans after night games. High demand at restaurants so frequently caused shortages that patrons had to make a list of menu items they liked before ordering.
Mexican fans revved up business in the Ural Mountains city of Yekaterinburg, overwhelming vendors at a sports store as they bought up any available souvenirs.
Sales of Kazan's chak-chak dessert , Rostov's local cakes and Russian pelmeni dumplings everywhere have soared.
So have visits to lesser-known monuments and cultural sites — a World War II museum in Volgograd, a Cossack village in Rostov, a museum dedicated to the Baltic enclave of Kaliningrad and its most famous resident, philosopher Immanuel Kant, the AP report said.