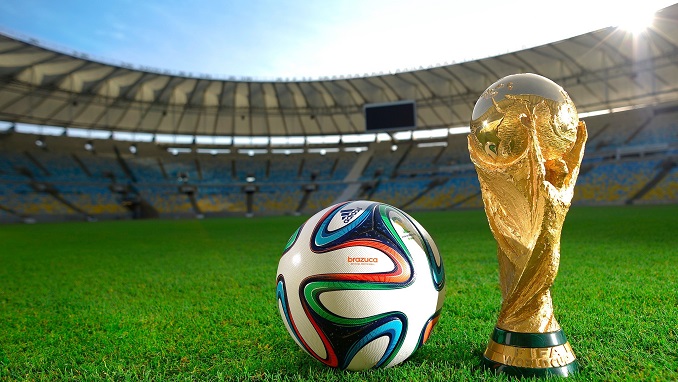 The groundwork and hosting of the 2018 FIFA World Cup will add one percent to Russia's GDP in total, which amounts to around 820 billion rubles ($13.3 billion) for 2013-2018, Vedomosti reported citing preliminary results of a research by consulting firm McKinsey commissioned by the World Cup organizing committee.
An additional $1.9 to $$2.9 billion may be added to the GDP annually through using the built-up infrastructure and the surge in tourist flow within the next five years, the report said.
According to a representative of McKinsey, Russia officially shelled out a total of $19.4 billion on the FIFA World Cup's preparatory works, mainly on the construction and improvement of sport and transport infrastructure. Tourism related to the World Cup is expected to contribute to GDP growth starting 2018.
This year, this sector of the economy may add $1.9 billion to the country's gross domestic product, and another $648 million – $1.1 billion annually within the next five years, according to McKinsey.
Alfa-Bank's Chief Economist Natalia Orlova does not share McKinsey's optimism.
"It is suggested that we build infrastructure to back up tourist flows, similar ideas were expressed prior to the 2014 Sochi Olympic Games. However, judging by the balance of payments, the export of services amounted to $70 billion in 2013, with transport services and trips, meaning tourism, standing at $33 billion, whereas in 2017 they amounted to $58 billion and $29 billion, respectively. This shows that the overall economic policy is not aimed at further opening the economy, one cannot use new infrastructure. That is why it is not necessarily the case that 2018 World Cup will provide a substantial multiplicative effect," the expert explained.
The 2018 World Cup matches will be held between June 14 and July 15 at 12 stadiums located in the 11 cities across Russia: Moscow, St. Petersburg, Sochi, Kazan, Saransk, Kaliningrad, Volgograd, Rostov-on-Don, Nizhny Novgorod, Yekaterinburg, and Samara.