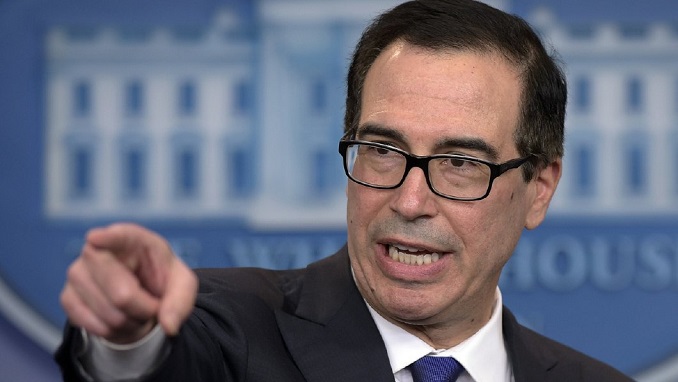 U.S. Treasury Secretary Steven Mnuchin said Washington will impose new sanctions on Russia within weeks, Reuters reported.
Speaking at a White House briefing Friday, Mnuchin said that the Treasury Department may choose some sanctions targets based on information developed from Special Counsel Robert Mueller's investigation of Russian meddling in the last presidential election.
A federal grand jury indicted St. Petersburg-based "troll farm" and 13 Russian nationals on Feb. 16, alleging a vast scheme to interfere in the 2016 election and help President Donald Trump win. The administration had faced criticism after Trump largely declined to criticize Russia's meddling, instead of saying Mueller's actions vindicated him and his campaign, even though the special counsel's probe continues.
At the news conference which largely focused on new sanctions against North Korea, Mnuchin made a point of raising the Russian issue unprompted.
"I don't want to leave here without emphasizing – you haven't asked me yet – we are working on Russia sanctions," Mnuchin said, without providing many details.
"We are closely working with the FBI and giving information as it relates to the recent suit and, as appropriate, we will look at sanctioning individuals from the information they have," Mnuchin said. "I will be back here within the next several weeks to talk about that."
Congress passed legislation in July calling for expanded sanctions on Russia and lawmakers have criticized Trump for failing to act on its requirements.
Mnuchin said this month that the Treasury isn't pursuing sanctions against Russian government debt after issuing a report ordered by Congress that concluded such a move would risk widespread financial turmoil. The administration also refused to add new sanctions on Russia's defense industry – with the State Department arguing the mere threat has had the desired effects – and Treasury issued a public list of "oligarchs" that was less targeted than expected.
Administration officials involved in work on sanctions have said the process is slow-moving for legal reasons and cannot be accelerated purely because of negative media coverage.
Mnuchin said at least one person on the list of oligarchs close to the Kremlin had already been targeted under a separate U.S. sanctions program.