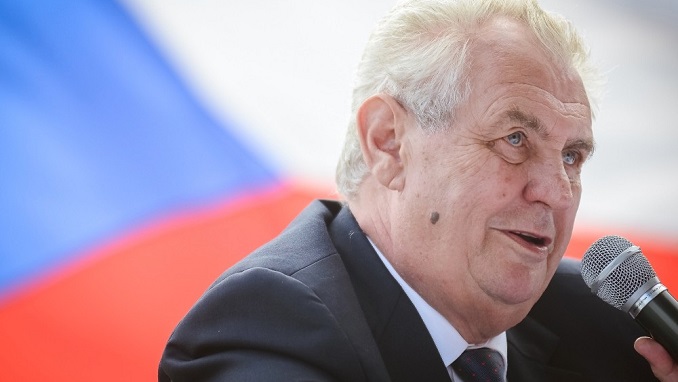 The case of a Russian hacker arrested in the Czech Republic and wanted both by the U.S. and his motherland is threatening to rile internal Czech politics, Reuters reports.
On Friday, President Milos Zeman urged Justice Minister Robert Pelikan to extradite the computer hacker to Russia rather than the United States, a stance at odds with Prime Minister Andrej Babis.
Yevgeniy Nikulin was arrested in Prague in October 2016 on a U.S. warrant, four years after he is alleged to have hacked into U.S.-based social media companies LinkedIn, Dropbox and Formspring. But Russia also asked for Nikulin's extradition on a Moscow court warrant over the alleged theft of $3,450 via Webmoney in 2009, the Czech Justice Ministry said at the time.
A Czech court subsequently ruled that Nikulin, 29, could be extradited to either country, leaving the final word up to Pelikan, who has no time limit for a decision.
Zeman, re-elected last month for another five years, has often taken a pro-Russian line, diverging from the stance of his own NATO- and EU-member-state's government, such as by opposing Western sanctions imposed on Moscow over its 2014 annexation of Crimea and its support of pro-Russian separatists in Ukraine.
"It is true there have been two meetings this year where the president asked me not to extradite a Russian citizen to the United States but to Russia," the website of the weekly newspaper Respekt quoted Pelikan as saying.
A Justice Ministry spokeswoman said she was aware of the meetings but not their content, though she had no reason to doubt the authenticity of the comment. A spokesman for Zeman declined to comment.
Respekt also quoted Babis, who professes a strong pro-EU and NATO stance, as saying earlier this month he would prefer Nikulin to be sent to the United States, but had no power over the decision. His spokeswoman declined to comment.
A decision to hand over Nikulin to Moscow could hurt Prague's relations with Washington.
In 2016, Pelikan refused to extradite two Lebanese citizens charged in the United States with an attempt to sell ground-to-air missiles, cocaine trafficking, and other crimes.
The decision upset Washington, but another Czech cabinet minister said it was connected with the return of five Czechs from a presumed kidnapping in Lebanon.
Babis will require Zeman's support in trying to build a new administration after his minority government lost a confidence vote last month. Zeman has the right to appoint prime ministers and has promised Babis another try at installing a government.