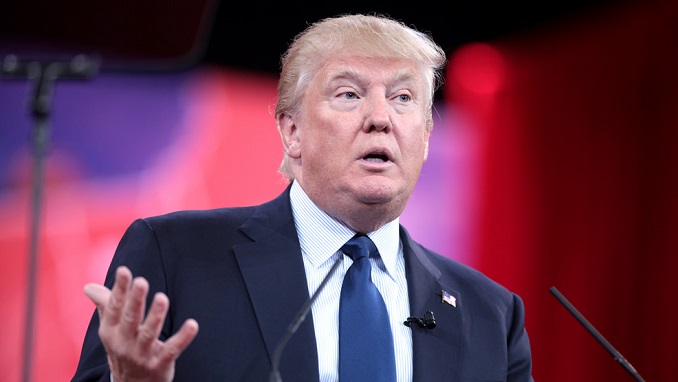 President Donald Trump flew overnight to the World Economic Forum in Davos, Switzerland, where he will push his "America First" agenda and seek fairer, reciprocal trade between the United States and its allies, CNN reported.
Business and political leaders the world over are anxiously awaiting what Trump will say to the World Economic Forum in Davos, the annual gathering of movers and shakers which this year features the first visit by a U.S. president in almost two decades.
The trip comes amid developments at home regarding the investigation about Russian meddling in the U.S. elections last year and special counsel Robert Mueller. Trump left for Saudi Arabia in May just as Mueller was appointed, departed for Asia in November as the first criminal charges in the probe were filed, and leaves this week amid new revelations of interviews with his attorney general and the FBI director he fired.
The special counsel investigation led by Mueller, a former FBI director, has seized headlines this week as a flurry of developments became public. It was confirmed on Tuesday that former FBI Director James Comey and Attorney General Jeff Sessions have both been questioned by the special counsel, and sources confirmed to CNN that Mueller indicated interest in interviewing Trump, although it is not clear when the interview would take place.
Mueller's indicated focus is on the ouster of Michael Flynn as a national security adviser and the firing of Comey in May.
Flynn has pleaded guilty to lying to the FBI about his contacts with Sergey Kislyak, who was the Russian ambassador to the U.S. at the time, and said he was cooperating with Mueller's investigation into potential coordination between Trump associates and Russia to influence the 2016 election. Comey has said publicly that Trump tried to press him to drop an investigation into Flynn.
Trump, never invited to Davos as a businessman, will be the first U.S. president to attend the annual gathering since Bill Clinton in 2000, giving him a chance to mingle with the same elite "globalists" he bashed in the 2016 election campaign.
White House aides said Trump's message would be the same that he has given during other trips aboard over the past year: The United States wants strong ties with its allies but wants to reduce chronic trade deficits with many of them.
"America first is not America alone," said White House senior economic adviser Gary Cohn, who is traveling with Trump. "When we grow, the world grows; when the world grows, we grow. We're part of it, and we're a part of a world economy. And the president believes that."
In the run-up to his trip to Davos, Trump slapped a 30 percent tariff on imported solar panels, among the first unilateral trade restrictions imposed by the administration as part of a broader protectionist agenda.