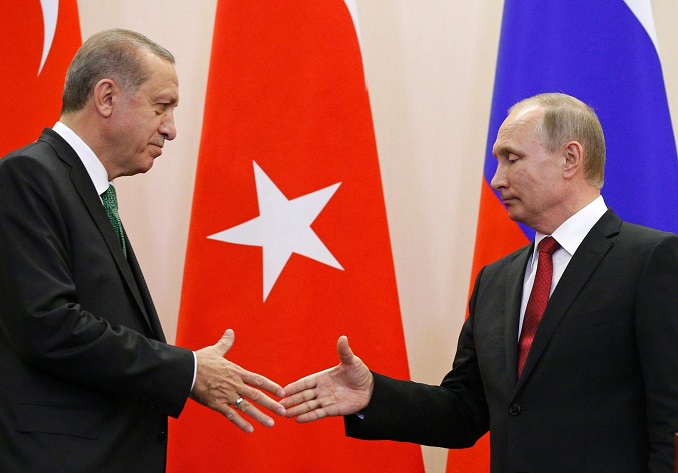 The new crisis which erupted after Turkey launched a military campaign in northern Syria has further strained relations between Ankara, the United States and its NATO allies, Russian analysts told Kommersant, adding that the developments is "pushing Erdogan closer to Russia".
Demanding that Ankara stops the operation, the Trump administration on Tuesday imposed sanctions against two Turkish ministries and several members of the country's top leadership, and raised export duties on Turkish steel. In response, Ankara stated that it did not intend to terminate the operation, despite increased pressure from its Western allies. 
According to experts interviewed by Kommersant, one of the main consequences of the new sanctions will be to draw Turkey and Russia closer.
In the context of the escalating strife between Turkey and the United States and its European NATO allies, the main intrigue is Ankara's possible response, since it hosts the strategically important Incirlik air base used by the U.S. Air Force and NATO, the business newspaper writes.
"Turkey has very limited ability to exert pressure on its Western partners since they are linked by thousands of threads. By taking such a radical step, like refusing to let the allies use the Incirlik base, Ankara would face disastrous consequences, since it would inflict a severe blow to its defense cooperation with NATO. However, the United States also has limits to any potential pressure on Turkey. Washington cannot afford to turn an ally into an implacable opponent," says Viktor Nadein-Raevsky, senior researcher at the Institute for World Economy and International Relations within the Russian Academy of Sciences.
"The introduction of new U.S. sanctions against Ankara was just additional confirmation that Washington's Turkish policy is becoming increasingly captive to the escalating domestic political battle inside the United States. President Erdogan, who does not want to be a victim of a showdown within the American elite, understands this. Thus, one of the main consequences of this new sanctions struggle launched by Washington will be the further rapprochement between Turkey and Russia," according to Ruslan Pukhov, director of the Center for Analysis of Strategies and Technologies.