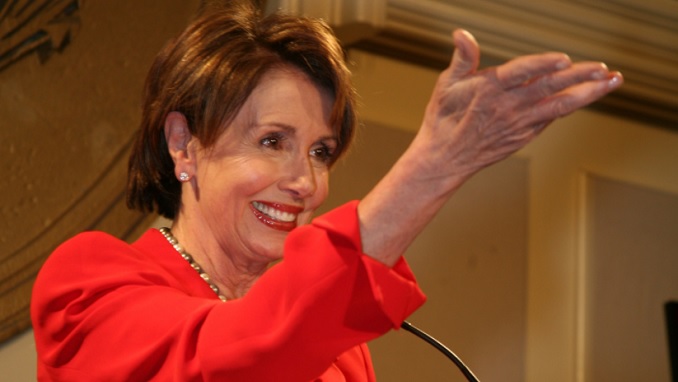 Top Democrats are calling on Congress to give the FBI $300 million to fight potential foreign interference in this year's midterm elections, a request that comes just days after the Justice Department indicted Russians for meddling in the 2016 presidential contest, CBS News reports.
The letter was sent Wednesday by House Minority Leader Nancy Pelosi, D-Calif., Senate Minority Leader Chuck Schumer, D-N.Y., and top Democrats on the House and Senate appropriations committees
"Congress must respond immediately to attacks on our democracy by a foreign adversary," the Democrats wrote. "We urge you to join us in vigorously combating efforts to sow discord in our country and support our state and local officials with the critical resources they need to protect our election systems."
Democrats say they are seeking $300 million more for resources and manpower to counter foreign influence operations in the United States, "especially Russian operatives operating on our social media platforms." They also call for an unspecified but "substantial" increase in funding for the Department of Homeland Security and the Election Assistance Commission's work with state and local governments to bolster the security of election infrastructure, including voter databases and voting machines.
The Justice Department announced a sweeping indictment of a notorious Russian group of internet trolls last week – charging 13 individuals and three companies with a long-running scheme to criminally interfere with the 2016 U.S. presidential election.
The Internet Research Agency, based in St. Petersburg, was named in the indictment as the hub of an ambitious effort to trick Americans online into following and promoting Russian-fed propaganda that pushed 2016 voters toward then-Republican candidate Donald Trump and away from Democrat Hillary Clinton.
In the days since Trump has mostly stewed on Twitter about the indictments and seized on statements by top Justice Department officials to claim that the indictments did not prove any "collusion" between his campaign and Russian figures. But he has said or done nothing to denounce the Russian interference or take steps to punish the accused actors and entities.
The Trump administration is asking Congress for $8.77 billion to fund the FBI in the current fiscal year. The congressional debate continues, with the Senate Appropriations Committee setting aside $9 billion for the agency, a $213 million increase above the budget request.