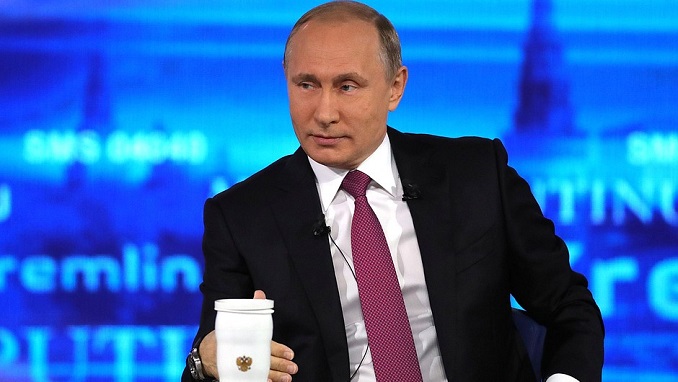 The Trump administration has released its long-awaited list of Russian politicians and business figures late Monday, Associated Press reported.
The list, required by a law passed by Congress last year to punish Russia for meddling in the 2016 U.S. election, is an attempt to increase pressure on Russian President Vladimir Putin. President Donald Trump had reluctantly signed the bill into law in August.
A total of 114 individuals deemed by the Treasury Department to be senior Russian political figures are included in the list. It also includes 96 people deemed to be "oligarchs." The Treasury says each has an estimated net worth of $1 billion or more.
The Trump administration had until Monday to release the list, aimed at exposing those who have gained wealth or power through association with Putin. It's been informally referred to as the "Putin list." The list does not trigger any U.S. sanctions targeting the individuals.
Meanwhile, The U.S. State Department said on Monday that the law meant to curb Moscow's influence in U.S. political matters was deterring billions of dollars in Russian defense sales, but it did not announce any sanctions under the measure designed to punish Russia for allegedly seeking to influence the 2016 presidential election.
"Today, we have informed Congress that this legislation and its implementation are deterring Russian defense sales," State Department spokeswoman Heather Nauert said, according to Reuters. "Since the enactment of the legislation, we estimate that foreign governments have abandoned planned or announced purchases of several billion dollars in Russian defense acquisitions."
The State Department said further details were contained in a classified report it had submitted to Congress.
"Given the long time frames generally associated with major defense deals, the results of this effort are only beginning to become apparent," Nauert said. "From that perspective, if the law is working, sanctions on specific entities or individuals will not need to be imposed because the legislation is, in fact, serving as a deterrent."
Moscow and Washington remain at odds over U.S. allegations of Russian meddling in the 2016 U.S. presidential election, something Russia denies, as well as over conflicts in Ukraine and Syria.
Ahead of the State Department announcement, Kremlin spokesperson Dmitry Peskov told reporters on a conference call that Russia regarded new sanctions as an unfriendly attempt to sway the March presidential election.
"We do think this is a direct and obvious attempt timed to coincide with the elections in order to influence them," Peskov said. "We do not agree with this and are convinced that there will be no influence" on the election result.
Russia holds a presidential election on March 18, which opinion polls show incumbent Vladimir Putin should easily win.