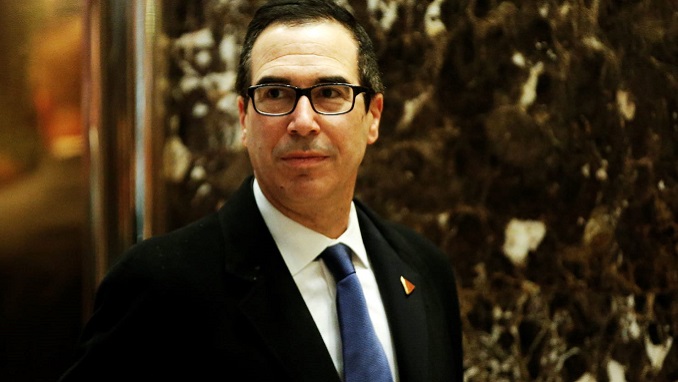 The United States is preparing to intensify its measures to prevent what it sees as unfair trading practices around the world, but denied that this represented a slide towards a new form of "protectionism" which might damage the wider economy, key U.S. officials have said.
Treasury Secretary Steven Mnuchin, who is at the World Economic Forum in Davos, said on Wednesday that he "absolutely" expected to see an acceleration of trade measures during 2018, and said the administration was tightly co-ordinated in pursuing tougher trade policies, according to Today Online.
"The president has been very clear that where there are big trade imbalances, we want that addressed and fixed," he said. "In this administration, we have excellent coordination on this issue . . . This is a policy issue the president is very focused on."
Meanwhile, U.S. commerce secretary Wilbur Ross warned that some big trade initiatives launched in 2017 "will come to fruition" in 2018.
The Trump administration faces deadlines for presidential action in the weeks ahead on national security investigations into imports of aluminum and steel and a wide-ranging probe of China's intellectual property regime that many in Washington expect to lead to further tariffs and a crackdown on Chinese investment.
This week it imposed its first major tariffs on imports of solar cells and washing machines.
However, both cabinet members vehemently denied that the US government's policies had become isolationist, arguing that the administration aimed to reform a global trading system which it viewed as becoming increasingly dysfunctional.
"We don't even like to use the word 'protectionism' . . . We don't use that word," said Mnuchin. "This is not about protectionism. This is about free and fair reciprocal trade. Anybody who wants to do trade with us on reciprocal terms is welcome to do so."
Speaking later at a news conference in Davos on Thursday morning, Mnuchin said the Trump administration was not seeking trade wars but would defend its economic interests.
"We want free and fair and reciprocal trade. So I think it's very clear. We're not looking to get into trade wars. On the other hand, we are looking to defend America's interests."
Asked about the risk of trade wars, Ross told CNBC: "Trade war has been in place for quite a little while, the difference is the U.S. troops are now coming to the ramparts."
Ross insisted that the campaign for reform was already bearing fruit, even inside the World Trade Organization.