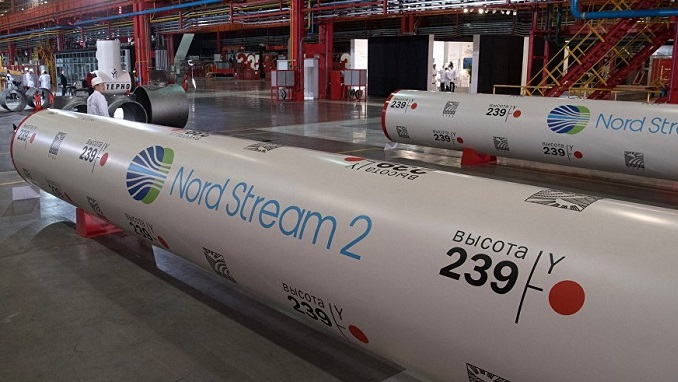 Germany is not hiding its irritation with pressure coming from Washington and the country's parliament, and the Bundestag has vowed to retaliate if the United States imposes restrictive measures against Russia's Nord Stream 2 pipeline, Izvestia reports.
According to the newspaper, different European countries got into quarrels over the gas pipeline's construction project. However, experts interviewed by Izvestia said that even amid tensions Germany would not easily give up American LNG.
Many European countries reacted very positively to the new gas pipeline. However, Washington has still not given up on efforts to thwart the Russian gas pipeline's construction. Real trade war has broken out between the allies, the newspaper wrote. Trump introduced 25% import duties on steel and 10% on aluminum against European manufacturers, and the EU retaliated by imposing duties on 200 U.S. goods. The conflict was resolved, but Trump was still able to impose his will and made Brussels promise to increase its purchases from the United States.
Thus, Berlin reacted rather harshly to the most recent media reports that the U.S. is going to introduce restrictions against companies involved in the construction of the gas pipeline. However, Germany does not intend to completely abandon U.S. liquefied gas.
Germany, like the rest of the European Union, stands for diversification of energy supplies, leading researcher at the German Studies Center of the Institute of European Studies of the Russian Academy of Sciences Alexander Kamkin told the newspaper.
"It makes no sense to expect that Germany will buy Russian gas exclusively. Moreover, competitors are also on the alert. Alternative pipelines from Azerbaijan are being constructed, while offshore drilling is underway in Cyprus and the share of US LNG on the European market is growing, despite it being priced way higher than pipeline gas," the expert told Izvestia.
However, this fact, according to Kamkin, will not prevent the launch of the gas pipeline. 
"Given the current political and economic climate, the Nord Stream 2 gas pipeline will be launched somewhere around the summer of 2020," he predicted.