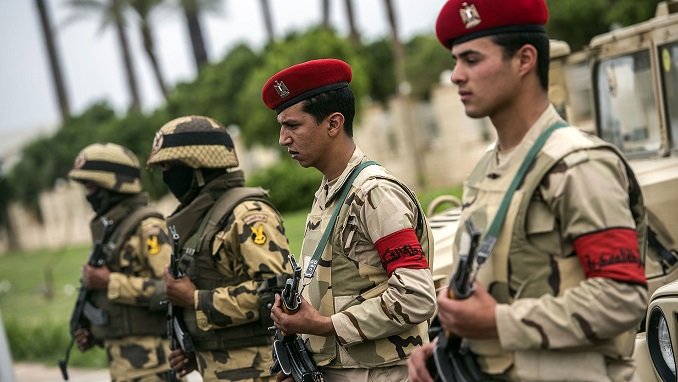 The Egyptian Minister of State for Military Production Mohammed Saeed al-Assar met the Russian Ambassador to Egypt Sergei Kiribchenko and an accompanying Russian delegation to discuss ways to enhance cooperation between Egyptian and Russian military manufacturing on Thursday, Egypt Today reported.
Russian Ambassador Kiribchenko stressed that he seeks to enhance cooperation with Egypt in different industrial fields by forming new partnerships between Russian companies and Egyptian production companies, particularly to manufacture railroad cars.
Russian and Egyptian military cooperation has increased in recent years since President Abdel Fatah al-Sisi came to power in 2014 as they signed a $3.5 billion arms deal in 2014, which included Egypt's purchase of Mig-29 fighters, air and coastal defense systems, Mi-35 attack helicopters and smaller arms.
Kiribchenko praised the capabilities of Egyptian military companies and their encouragement of Russian companies to cooperate and exchange expertise with them, adding that they will play an effective role in developing manufacturing in both states.
In addition, Egypt received three Ka-52 attack helicopters, known as Black Sharks, in 2017 which were part of a 46 "Black Shark" helicopters deal signed in 2015.
Stepping up military and technical ties with Russia aims to bolster the Egyptian Armed Forces' capabilities in its war against terrorism; particularly to combat the terrorism funded by outside countries such as Qatar and Turkey that aims to destabilize Egypt and incite internal chaos.
Shoigu signed a draft deal during his visit on November 30, which allows the two states to use the other's military facilities and airspace for a period of five years.
The agreement was expected to include joint training sessions between the two states to prime Egyptian pilots to fly Russian planes. Russia and Egypt would also be able to carry out bilateral anti-terrorism measures in Sinai, the area in which the uprising of the Islamic State (ISIS) in Egypt is centered.
Shoigu stated that the improving relations between Russia and Egypt will be accompanied by increasing bilateral contracts for Russian defense enterprises.