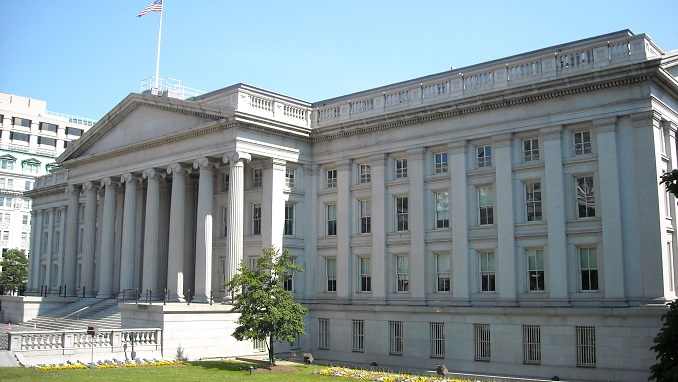 The U.S. Treasury has targeted a Russian bank for "facilitating a significant transaction" on behalf of a person with ties to North Korea's banned weapons program, the department said on Friday, according to The Wall Street Journal.
The Treasury's Office of Foreign Assets Control (OFAC) said that it was adding Agrosoyuz Commercial Bank of Moscow to its list of sanctioned entities and persons for actions allegedly helping North Korea to evade United Nations Security Council sanctions
OFAC said it was also designating Ri Jong Won, 48, a Moscow-based deputy representative of the previously sanctioned Foreign Trade Bank (FTB) — described as North Korea's primary foreign-exchange bank — along with two North Korean "front companies."
"Today's action targets a Russian bank for knowingly facilitating a significant transaction on behalf of an individual designated for weapons of mass destruction-related activities in connection with North Korea," the statement said.
OFAC sanctions generally aim to block any financial assets and property the companies and individuals might have within U.S. jurisdiction and forbid Americans from conducting transactions with them.
The same day, the United States asked the United Nations Security Council's North Korea sanctions committee to list the same entities. To do so, all 15 Security Council members, including Russia, would have to agree.
The U.S. Treasury statement said that Agrosoyuz conducted a financial transaction on behalf of Han Jang Su, the Moscow-based chief representative of Foreign Trade Bank (FTB), North Korea's primary foreign exchange bank."
It noted that both Han and FTB had been previously designated by the United States.
"Nevertheless, continuing into 2018, Russian bank Agrosoyuz continued to provide services to Han Jang Su, in violation of Russia's UN obligations," OFAC said.
It said Agrosoyuz has had a "long relationship" with North Korea and has processed millions of dollars in transactions through accounts owned by North Korean banks.