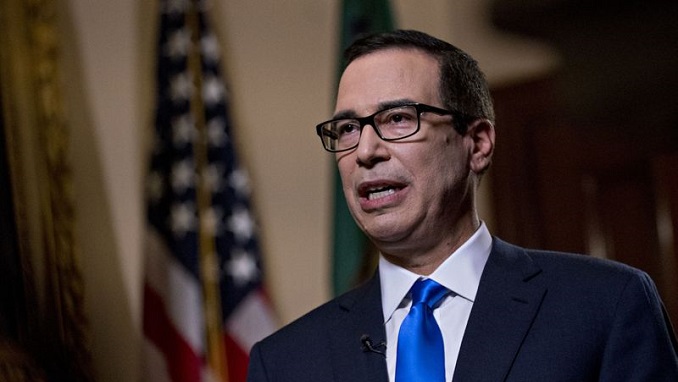 The latest sanctions imposed by the United States on Russia had the effect the Trump administration wanted, Treasury Secretary Steven Mnuchin said, according to Bloomberg.
The sanctions on Russian oligarchs sent the ruble tumbling and roiled metals markets since their announcement on April 6. Mnuchin said that the sanctions against tycoons close to the Russian government had the "necessary impact." He also noted additional financial penalties were possible, saying the administration "is not afraid to use these tools — we will use these tools — but we're not going to broadcast to the world our exact thinking."
The Treasury Secretary was speaking in an interview broadcast Thursday on Fox Business.
Among the latest sanctions' targets was Oleg Deripaska, the billionaire founder and majority shareholder of energy group En+ and Rusal, a key aluminum company in Russia and the world's number two producer.
The sanctions have cast a pall over Russian markets, as investors try to gauge whether more penalties are in the pipeline and which companies or individuals might be targeted. The Russian Finance Ministry canceled a debt auction for the first time since 2015.
The ruble has fallen 8.3 percent since the penalties were imposed, and commodities markets have been rocked for the past two weeks by the clampdown on Rusal, the largest aluminum supplier outside China. The move set off a rush for alternative supplies and stirring concern that further U.S. action could affect other markets like nickel.
The London Metal Exchange's 3-month forward contract for aluminum is up 22 percent since the sanctions were imposed.
The Trump administration was reluctant to impose further sanctions on Russia this week in response to a chemical attack by Bashar al-Assad's forces in Syria. After U.S. ambassador to the UN Nikki Haley announced new measures last Sunday, White House National Economic Council Director Larry Kudlow said Haley was "momentarily confused," prompting a reaction from the ambassador. No new sanctions against Russia followed, and Kudlow later apologized for his remark.