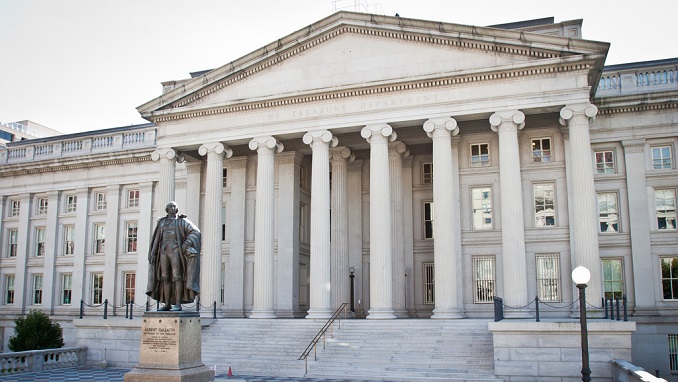 The U.S. Treasury has announced new sanctions against Russian and Ukrainian citizens involved in the Russian annexation of Crimea, barring them from doing business with Americans and freezing any assets they hold under U.S. jurisdiction, Reuters reports.
Some 21 new individuals and 9 companies are on the updated blacklist.
"The U.S. government is committed to maintaining the sovereignty and territorial integrity of Ukraine and to targeting those who attempt to undermine the Minsk agreement," Treasury Secretary Steven Mnuchin said Friday, referring to the agreement under which Russia and Ukraine are obligated to support a cease-fire, withdraw heavy weapons, and support electoral reform.
The new sanctions target several Russian officials, including deputy energy ministers Andrei Cherezov, who is already under European Union sanctions for his role in transferring energy turbines to Crimea, and Evgenia Grabchak. Also listed is Sergei Topor-Gilk, director general of Technopromexport, a Moscow-based engineering firm that builds hydropower, geothermal and diesel power plants, power lines and electricity substations in Russia and abroad.
Eleven of the other people targeted are Ukrainian separatists holding government titles in the separatist areas that have proclaimed themselves Donetsk People's Republic and Luhansk People's Republic.
In addition to the individuals, the new sanctions target nine Russian companies involved with building infrastructure in the separatist-controlled areas of Crimea. The list also includes the foreign trade association Technopromexport, Power Machines, 12 subsidiaries of Surgutneftegaz, and Doncoaltrade, which is registered in Poland.
The United States and European Union say the separatists in Crimea are directly backed by Russian forces. They accuse Russia of sending personnel and weapons, funding, and supplies to Crimean separatists.
Russia announced in 2014 that it was annexing Crimea and denied accusations that it was arming and supporting separatist fighters there.
The U.S. Commerce Department announced Thursday that Russian company Abtronix had also been included on a separate sanctions lists. U.S. property and assets of Abtronix's general director, Timofey Telegin, will be seized, and Telegin with be banned from entering the United States.
Treasury is expected to submit the list to Congress by January 29.