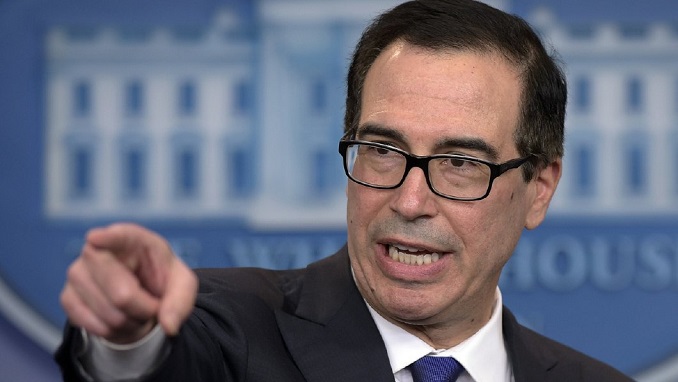 A U.S. Treasury Department memo obtained by Bloomberg Friday warns that expanding sanctions to new Russian sovereign debt and derivatives could destabilize financial markets and spread beyond Russia.
The document said such sanctions would have "negative spillover effects into global financial markets and businesses."
The memo is a Treasury response to report sent to Congress on Monday evening along with a list of Russian businessmen and politicians close to Russian President Vladimir Putin. The classified document mandated by Section 242 of CAATSA required a report on the effects of expanding potential sanctions to include Russia's sovereign debt and derivative products.
For instance, if the United States moved to prohibit U.S. and foreign persons from investing in such debt, Russia would have a far more difficult time bailing out key sectors of its economy, particularly during downturns. But the Treasury report says such sanctions would put downward pressure on Russian economic growth, increase strain on the banking sector and "lead to Russian retaliation against U.S. interests."
"Given the size of Russia's economy, its interconnectedness and prevalence in global asset markets, and the likely over-compliance by global firms to U.S. sanctions, the magnitude, and scope of consequences from expanding sanctions to sovereign debt and derivatives is uncertain and the effects could be borne by both the Russian Federation and U.S. investors and businesses," the report finds.
The report – and the prospect of new sanctions – had cast a shadow on Russian debt markets since Congress passed the law requiring a series of sanctions-related studies, including a separate list identifying Russian billionaires and officials close to President Vladimir Putin.
Treasury Secretary Steven Mnuchin told senators at a hearing on Tuesday that the reports would be followed by fresh sanctions on Russia as punishment for its interference in the 2016 presidential election.
Mnuchin has faced criticism over how his department handled the billionaires' list, which contained the names of 210 people. The Treasury confirmed that it used a Forbes list of wealthy Russians, along with other public sources, to compile it. Democrats said the reports should have been accompanied by new sanctions.