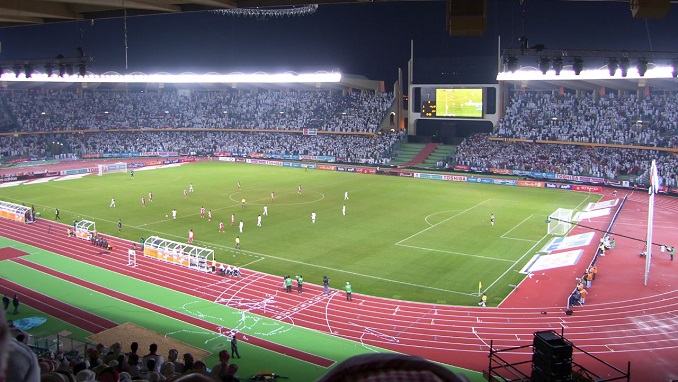 A local energy company in the Russian city of Samara said Tuesday it briefly cut power supply to the city's stadium, built for this year's football World Cup over unpaid bills, Reuters reported.
The news comes despite President Vladimir Putin saying he did not want infrastructure built for the World Cup to fall into disuse.
The power supply was cut early on Tuesday because PSO Kazan, the company that built the modern 42,000-seater, had not paid its electricity bills this year and had racked up around $138,000 in debt, said the power supply company, Samaraenergo.
"We waited for a long time, delaying the power cut," said Olga Perkova, a spokeswoman for the company. Because PSO Kazan did not resolve the issue of paying its debt, a decision was made to cut electricity."
According to gas and electricity prices comparison service Selectra, a modern stadium can consume up to 25,000 kilowatt-hours (kWh) per 90-minute match, which would mean an almost $3,000 expense, at average current Russian prices (11 ¢ per kWh). The power used in those 90 minutes could keep more than a dozen homes going for an entire year.
Stadium energy consumption changes depending on the season, especially in Russia, where some of the World Cup refurbishments include heated seating and turfs. Stadium lights also use a lot of energy because of FIFA's high standards when it comes to illuminating the pitch evenly. Floodlighting, scoreboards and advertising screens account for almost 40% of total energy use during a game, according to Selectra.
In the run-up to the World Cup, Russian authorities had scrambled to finish work at the Samara venue, following a series of construction delays. The stadium hosted six tournament matches, including England's 2-0 quarter-final win against Sweden.
Russia hosted the World Cup in June and July in 12 stadiums spread across 11 cities, and the authorities have pledged that the newly-built venues will be put to good use. But problems at some of its new stadiums have already appeared. A day after last month's final, heavy rain damaged the newly-built stadium in the southern city of Volgograd.