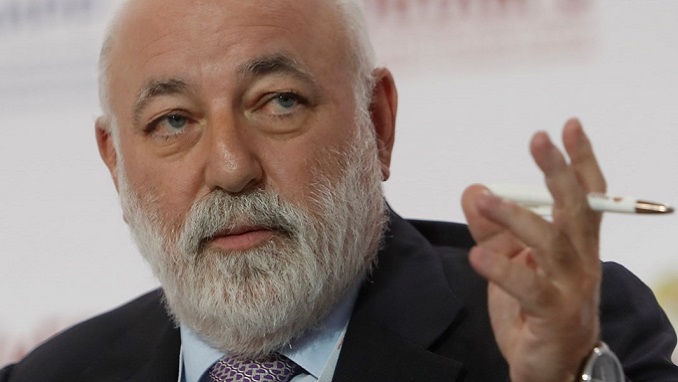 U.S. sanctions against Russian billionaire Viktor Vekselberg and his company, Renova Group, have resulted in the freezing of assets totaling between $1.5 billion and $2 billion, two sources close to the matter told Reuters.
Washington imposed sanctions against several Russian entities and individuals, including Swiss-based Russian oligarch Viktor Vekselberg and his Renova Group conglomerate, on April 6 to punish Moscow for suspected meddling in the 2016 U.S. election and other alleged "malign activity."
All U.S. dollar bank accounts of companies controlled by Renova have been blocked as a result, the sources said, confirming an earlier report in Swiss paper Finanz und Wirtschaft on Saturday. Renova declined to comment on the situation.
A number of European firms have seen difficulties from ties to Renova since the sanctions were announced, with pump maker Sulzer taking a one-off hit from business disruption and agreeing to buy 5 million shares from Renova to free itself from sanctions.
Italy's Octo Telematics put its IPO on hold and Steelmaker Schmolz & Bickenbach has faced snags in clearing a bond placement needed to finance a deal.
Nonetheless, Renova, which is headquartered in Moscow and has a subsidiary in Zurich, intends to maintain its Swiss holdings, which also include a stake in Oerlikon.
Renova and Vekselberg are seeking the help of Swiss authorities in clearing up business matters, the people said, adding that the Swiss government had been instrumental in helping free Sulzer from sanctions.
Salary accounts of several Swiss-based Renova employees had been blocked for a time, the people said but were once again open after clearing diligence checks.
"European and Swiss banks, in particular, are excessively cautious," one source said. "Secondary sanctions turn out to be in fact of (a) supra-national character, finding (their) way into countries which are not going to copy U.S. sanctions or do not even agree with them."