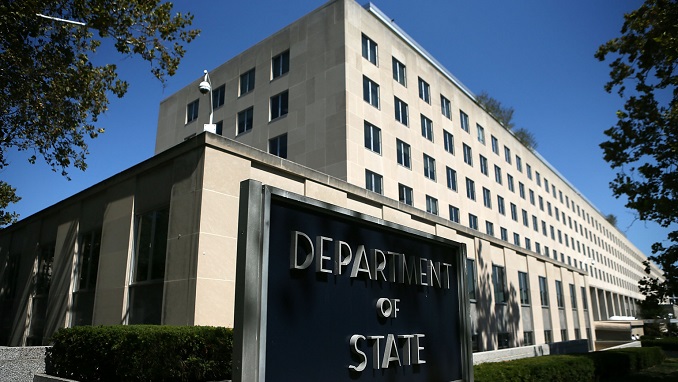 The United States Department of State said on Wednesday it would impose new sanctions by the end of August after determining that Moscow used a nerve agent against a former Russian double agent, Sergei Skripal, and his daughter, Yulia, in Britain, BBC reports. It was an allegation Russia has repeatedly denied.
Moscow has long cast the accusations as a Western plot to damage its reputation and provide a convenient pretext for more sanctions.
According to the State Department, the first package of sanctions bans exports of sensitive national security goods to Russia. The second part would come into force in three months unless Russia provides "reliable assurances" that it won't use chemical weapons in the future, and agrees to "on-site inspections" by the UN. Among the possible restrictions included in the second round of sanctions would be ban of Aeroflot flights to the U.S.
Kremlin spokesman Dmitry Peskov, speaking to reporters on a conference call, said the U.S. move was "absolutely unfriendly".
"Making a linking to these events is for us unacceptable and such restrictions like those passed by the American side earlier … are absolutely illegal and do not correspond to international law," said Peskov.
Russia's embassy in the United States said Washington's findings against it in the Skripal case were not backed by evidence, also describing them as "far-fetched".
"We have grown accustomed to not hearing any facts or evidence," an embassy statement said.
Skripal, a former colonel in Russia's military intelligence service, and his 33-year-old daughter were found slumped unconscious on a bench in the southern English city of Salisbury in March after a liquid form of the Novichok type of nerve agent was applied to his home's front door.
European countries and the United States expelled 100 Russian diplomats after the attack in the strongest action by President Donald Trump against Russia since he came to office.
Western sanctions have already drastically reduced Western involvement in Russian energy and commodities projects, including large-scale financing and exploration of hard-to-recover and deep-water resources.
Russian Finance Minister Anton Siluanov said the government and central bank had the tools to maintain financial stability and would use them if necessary.