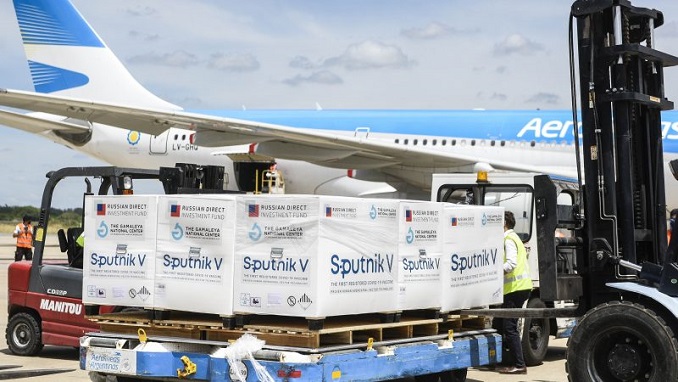 Deliveries of Russian coronavirus vaccine Sputnik V to Turkey may begin within four or five months, Turkish Health Minister Fahrettin Koca said on Monday, Sputnik reports.
"We initially chose three vaccines: Sputnik V, Pfizer/BioNTech and Sinovac from China. Phase 3 trials of the last two vaccines were carried out in Turkey. On Sputnik, as you know, we had questions about toxicology, but good intermediate test results have now been obtained. In the last week, I spoke three times with the Russian health minister, we are discussing both production and the volume of deliveries. Sputnik V may start arriving in Turkey within four to five months," Koca told reporters in Ankara.
Last Friday, Russian President Vladimir Putin and his Turkish counterpart, Recep Tayyip Erdogan, on Friday discussed COVID-19 and possible joint production of the Russian Sputnik V vaccine during a phone conversation. Koca also said on Friday that the interim result of the ongoing toxicological studies of the Russian Sputnik V coronavirus vaccine in Turkey were positive.
Turkey began vaccination in January with the CoronaVac vaccine made by the Chinese biopharmaceutical company Sinovac. In March, the country started using the Pfizer/BioNTech vaccine. The priority groups in the immunization campaign included the elderly, medical and educational personnel.
On Monday, India became the 60th country to authorize use of Russian coronavirus vaccine Sputnik V, and the vaccine is now approved in countries with a total population of 3 billion, or 40 percent of the world's population, the Russian Direct Investment Fund (RDIF) said.
Sputnik V ranks second in the world in terms of the number of approvals received by government regulators.