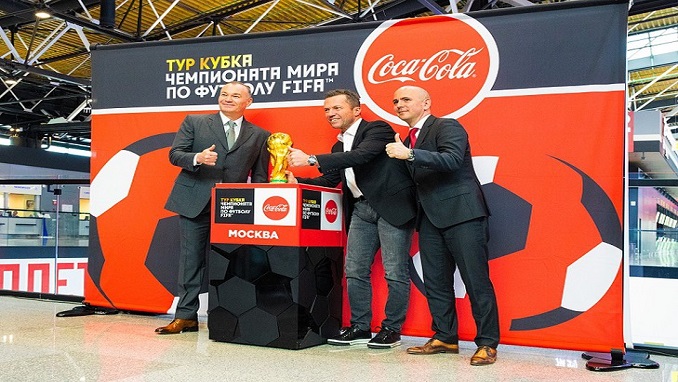 Moscow's Sheremetyevo Airport held its World Cup ceremony when the legendary trophy was presented by airport management as part of the FIFA World Cup preparations. The ceremony was held in the new Terminal B, built especially for the tournament, Air Cargo News informed.
The 110,500 square meter (362,533 square feet) terminal, capable of handling up to 20 million passengers a year, went into operation almost a month ago, Sputnik notes.
Inspired by the works of early-20th century Russian avant-garde artists Lyubov Popova and Varvara Stepanova and taking a cue from El Lisitsky and Alexander Rodchenko, the terminal's interior design makes extensive use of 3D screens offering visual images and Russian historical sites.
A passageway with passenger and baggage tunnels, the so-called "aerometro," is available to facilitate passenger transport between the airport's Northern and Southern terminals.
Automated trains take a mere four minutes to move passengers between terminals cutting wait time for transit passengers to just 50 minutes. An impressive $722 million has been invested in Sheremetyevo Airport to bring it up to speed for the World Cup.
"Sheremetyevo is expanding, more money will be invested shortly and there are more than 12,000 people working there," Moscow Region's governor Andrei Vorobyov told reporters.
Terminal B also features VIP lounge and Rublev and Kandinsky business lounges whose designers were inspired by traditional Russian artistic and architectural motifs.
"Rublev Lounge is 2,600 square meters (8,500 square feet). It has a two-tier design and can handle 456 persons. The lounge was designed by Dutch architects, famous for their work at Amsterdam international airport," the director of Sheremetyevo's VIP-International company, Tatyana Kuznetsova, said.
"We tried to reflect genuinely Russian architecture combining Rublev's domes with Tatlin's tower, also known as the monument to the Third International. The lounge is very comfortable with a conveniently placed restaurant, recreation area, TV zone and rooms for kids. Hotel rooms and showers are available to passengers with long wait periods. This is a five-star hotel, nothing less," Kuznetsova added.
Construction of the first section of 116,000 square meter (380,000 square feet) Terminal C with passenger handling capacity of 20 million a year is now underway. Slated to be complete in 2019, it will be integrated, along with Terminal B, into a single Northern terminal complex, Sputnik adds.
In 2017 Sheremetyevo Airport handled over 40 million passengers — 17.8 percent more than in 2016. Britain's OAG research company has put Sheremetyevo airport on its list of the world's top three air havens in terms of punctuality, and named it the best in Europe in the category among airports with an annual passenger turnover of between 20 and 30 million.