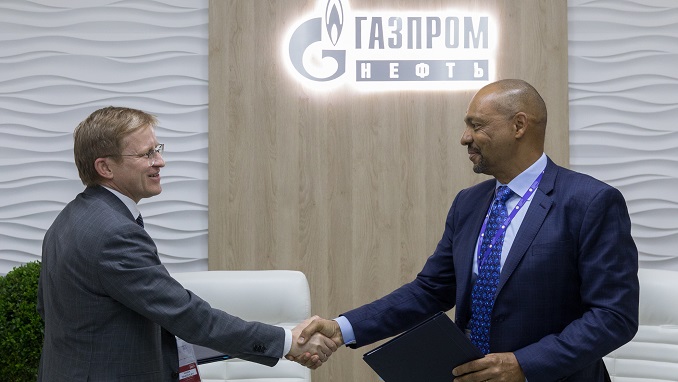 Russia's Gazprom Neft, gas giant Gazprom's oil arm agreed on expanding cooperation in new technological projects in on-shore oil production with U.S. tech major IBM, Naftegaz.ru reports.
The deal was reportedly agreed at the recently held St. Petersburg International Economic Forum. One of the possible directions is joint work on the methodology for the introduction of a Digital Laboratory by Gazprom Neft, the report said.
The Russian company will test new technologies based on the Digital Lab in order to improve the efficiency of geological exploration and production of onshore oil reserves (software products based on artificial intelligence, predictive analytics, Big Data, industrial IoT, etc.), the company said.
"Our company aims to lead in the industrial digital transformation. Together with IBM, we will expand the accumulated experience of implementing breakthrough developments in the field of geology and drilling. The use of artificial intelligence in the analysis of large data has proved the possibility of increasing the economic efficiency of our projects through making timely and optimal decisions," said Vadim Yakovlev, First Deputy General Director of Gazprom Neft.
Experts from the two companies have already developed a joint program for the digital management of oil production processes in the on-shore fields. Several projects are underway in the field of automated analysis of the geo-information system, studying geology and predicting complications in the drilling process.
"Surveys conducted by the IBM Institute for Business Value among the top managers in the oil and gas industry show that the digital transformation is becoming a key driver in making the businesses more efficient. It allows the companies to remain leaders even in such competitive industries. IBM's joint projects with Gazprom Neft are a clear demonstration of such approach," said Andrey Filatov, Country General Manager, IBM in Russia and the CIS.
At the SPIEF last month, Gazprom Neft and IBM signed an addition to an agreement on strategic cooperation in the field of digital technologies.